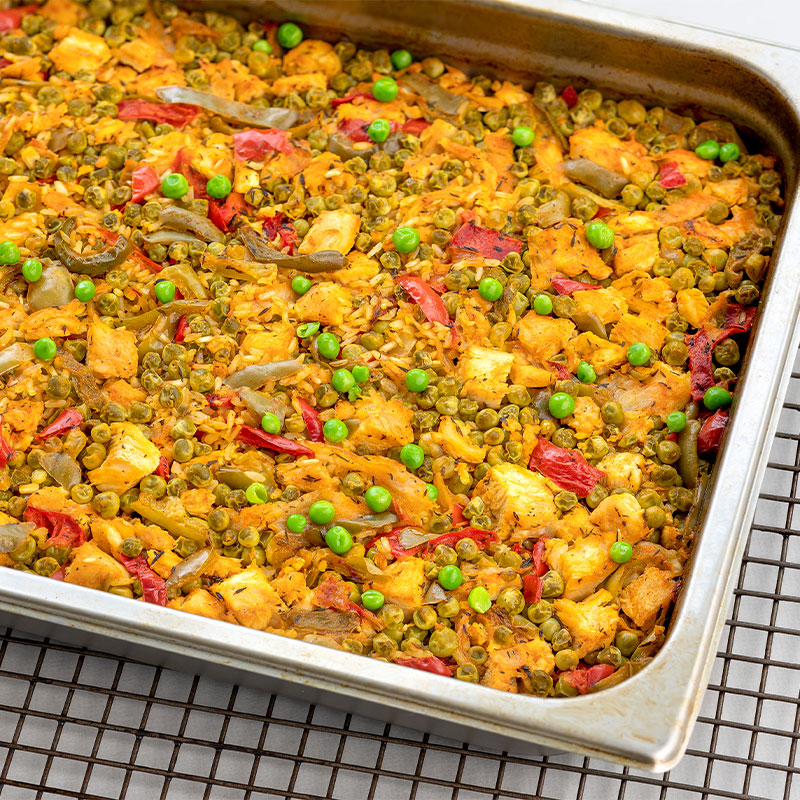 K-12 Paella
This Spanish rice dish is colorful and full of traditional flavor. Chicken, vegetables and savory spices are baked along with U.S.-grown brown rice until the flavors permeate the rice and create the perfect school meal.

This tasty K-12 school recipe was created for us by our friend Chef Sam Cowens-Gasbarro. Click on the PDF below to download the full recipe with crediting from the USDA Food Buying Guide recipe analysis workbook (RAW).
Servings

50

Serving Size

¾ cup
Ingredients
6 ¼ pounds brown long grain rice, dry

4 teaspoons kosher salt

1 teaspoon turmeric or saffron

4 tablespoons garlic, granulated

4 tablespoons paprika

2 tablespoons thyme

7 ½ quarts chicken broth, low sodium

2 tablespoons vegetable oil

6 ¼ pounds chicken, diced, cooked

5 ¼ pound green peas, frozen

6 ½ pounds peppers and onion blend, frozen
Directions
Divide rice evenly into (2) 2-inch deep full-sized steamtable pans.

Combine salt, turmeric, garlic, paprika, thyme.

Divide seasonings evenly into both pans. Stir seasonings into rice.

Add 3 ¾ quarts of chicken broth and 1 tablespoon of oil to each pan. Thoroughly combine.

Add thawed chicken, peas and peppers and onions to each steamtable pan.

Preheat oven to 375 °F. Cover each steamtable pan and bake for 1 ½ hours, until rice has absorbed all liquid. Remove cover and bake an additional 15 minutes.

Remove from oven and let sit 15 minutes.
CCP: Hold warm, above 135 °F for service.
Recipe Notes
One portion provides: 2 oz. eq. grain, 2 oz. eq. meat/meat alternate, ½ cup vegetable

May cover and cook in steamer for 60 minutes. Finish by cooking 15 minutes, uncovered in oven.

Samantha Cowens-Gasbarro, Healthy School Recipes
Nutrition Facts
Serving

¾ cup

Calories

400

Total Fat

6g

Saturated Fat

1.5g

Cholesterol

35mg

Sodium

290mg

Carbohydrates

62g

Dietary Fiber

7g

Sugar

5g

Protein

24g