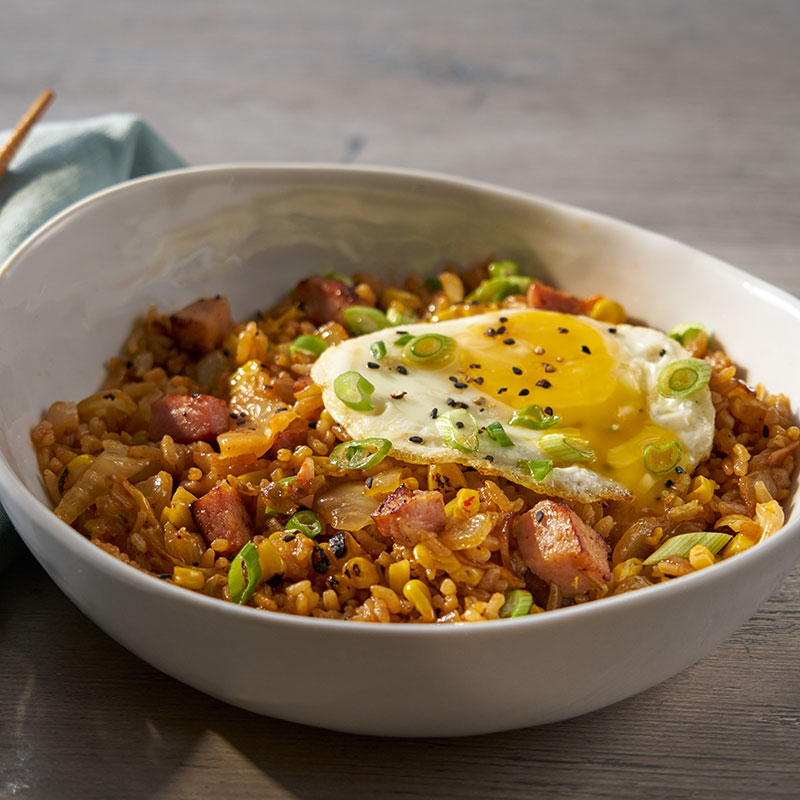 Servings

6

Serving Size

2 cups rice + 1 fried egg

Total Time

60 – 90 min
Ingredients
Korean Spam Fried Rice:

2 cups U.S.-long grain rice, cooked and chilled

½ cup spam, diced 1/2

¼ cup yellow onion, diced 1/4

¼ cup gochugang soy sauce

½ cup sweet corn, grilled & cut from cob

½ cup kimchi, chopped

6 large egg, over easy

¾ cup scallions, thinly sliced

2 tablespoons sesame oil

Gochujang Soy Sauce:

1 ½ cups soy sauce

4 ½ tablespoons gochujang

2 tablespoons garlic

1 tablespoons ginger
Directions
Spam Fried Rice

Pour canola oil into a wok or large sauté pan over high heat.

Once the oil is hot, sear the spam pieces.

Once spam is seared, reduce heat to medium-high and add yellow onion. Cool until onion becomes translucent.

Add rice to the pan and break apart any large chunks of rice.

Pour in gochujang soy sauce and fold into rice until the rice is evenly covered in sauce.

Add in corn and kimchi and cook until all ingredients are hot.

Serve 2 cups of fried rice topped with 1 fried egg, 2 tablespoons sliced scallions, and a 1 teaspoon drizzle of sesame oil.
Gochujang Soy Sauce

Combine all ingredients in a blender and blend on high until fully combined.

Store in the refrigerator until ready to use.