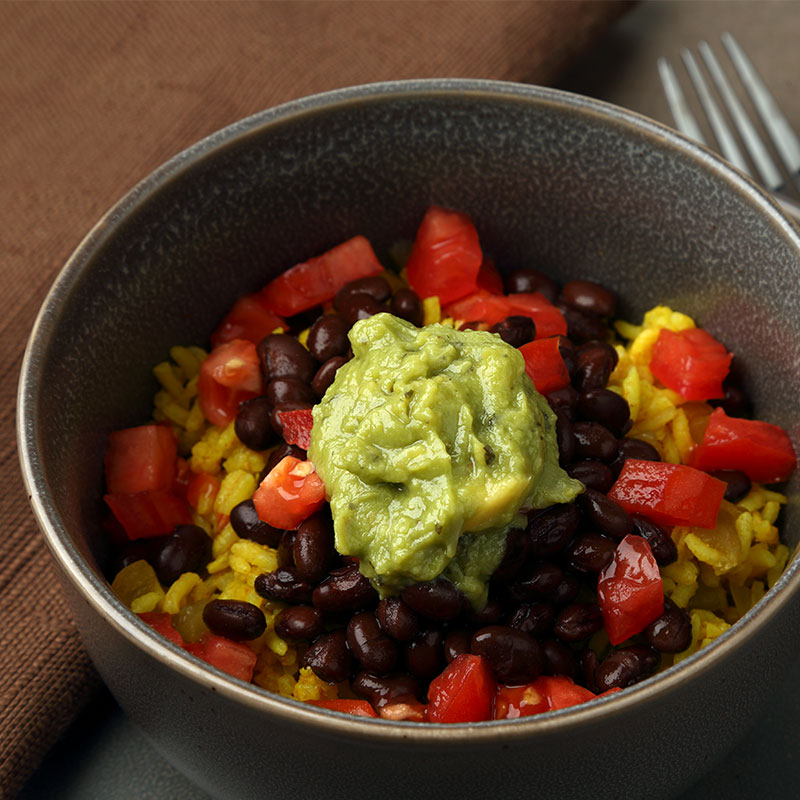 Layered Black Bean and Rice Casserole
Servings

24

Serving Size

1 ⅓ cups

Total Time

1 hr
Ingredients
7 cups water

2 tablespoons ground cumin

1 tablespoon ground turmeric

4 cups U.S. long grain white rice

4 cups yellow onions, chopped

1 ½ tablespoons salt

6 (15-ounce) cans black beans, rinsed and drained

6 (4-ounce) cans mild green chilies, chopped

6 cups tomato, chopped

½ cup extra virgin olive oil

6 cups guacamole

6 limes, quartered
Directions
Preheat oven 350 degrees F.

Combine water, cumin, and turmeric in a large saucepan. Bring to a "rolling" boil.

Place rice and onion in a 20x12x4-inch hotel pan. Place on oven rack, pour boiling water mixture over rice, stir until well blended. Cover tightly with foil, making sure the edges are sealed.

Bake 30 minutes. Remove cover, stir in the green chilies and salt; top with the beans and pour oil evenly over all. Cover and bake 15-20 minutes or until heated through. Serve topped with tomatoes, guacamole and lime wedges.
Recipe Notes
Serving is: 1 ⅓ cups bean & rice, ¼ cup tomatoes, ¼ cup guacamole.
Makes 32 cups bean and rice mixture, plus 6 cups tomatoes and 3 cups guacamole total.
Nutrition Facts
Serving

1 ⅓ cups

Calories

350

Total Fat

14g

Saturated Fat

2.5g

Trans Fat

0g

Cholesterol

0mg

Sodium

860mg

Carbohydrates

43g

Dietary Fiber

10g

Sugar

3g

Protein

9g