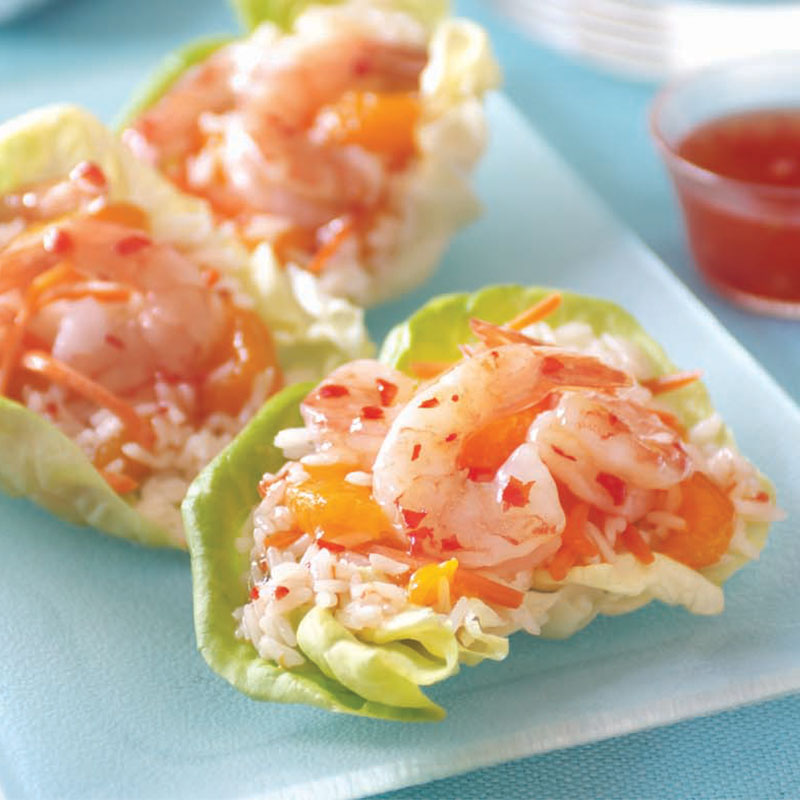 Mandarin Orange Rice and Shrimp Lettuce Wraps
"Rev Up Your Rice!" Recipe Contest Finalist- Patrice Hurd
Ingredients
1 (11-ounce) can mandarin oranges, drained, juice reserved

1 tablespoon vegetable oil, divided

¾ teaspoon salt

1 cup brown rice

2 tablespoons bottled Thai sweet chili sauce

12 ounces medium shrimp, peeled and deveined

12 whole large lettuce leaves, bibb or iceberg lettuce

1 cup carrots, shredded
Directions
Combine reserved mandarin orange juice with enough water to equal 2 cups liquid. Bring juice mixture, 1 teaspoon oil and salt to boil in medium saucepan over medium-high heat.

Stir in rice; cover and reduce heat to simmer. Cook according to package instructions. Stir mandarin oranges and sweet chili sauce into cooked rice.

Meanwhile, heat remaining oil in large skillet over medium heat. Add shrimp and sauté just until cooked through, about 4-5 minutes.

Arrange lettuce leaves on large platter. Spoon rice mixture into center of each lettuce leaf. Top with carrots and shrimp.
Nutrition Facts
Calories

230

Total Fat

4.5g

Cholesterol

85mg

Sodium

460mg

Carbohydrates

33g

Dietary Fiber

3g