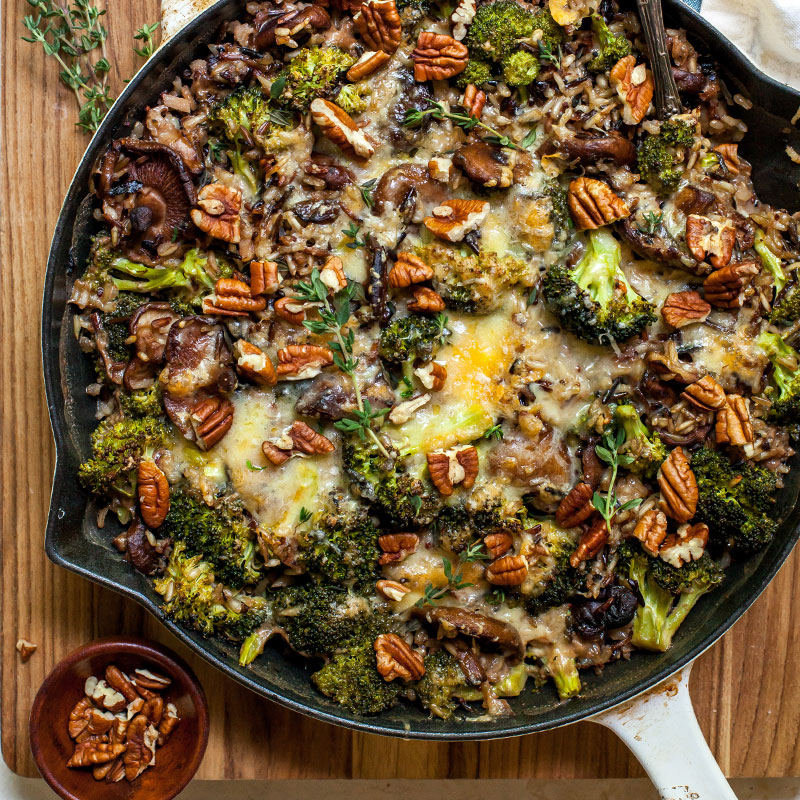 One Pan Wild Rice and Cheesy Broccoli Casserole
This hearty vegetarian meal features California-grown Wild Rice and is weeknight-approved! This family favorite comes to us from our friend Jamie Vespa in partnership with USA Rice.
Servings

6

Prep Time

20 min

Cook Time

60 min

Total Time

1 hr 20 min
Ingredients
2 tablespoons butter, unsalted

2 tablespoons extra virgin olive oil

8 ounces shiitake mushrooms

½ cup shallots, chopped

1 ½ cups U.S.-grown wild rice blend

5 garlic cloves, minced

6 sprigs fresh thyme

3 cups chicken broth

1 tablespoon Dijon mustard

½ teaspoon kosher salt

1 teaspoon black pepper, freshly ground

4 cups broccoli florets, chopped

1 cup whole milk

½ cup fresh parmesan cheese, grated

1 cup shredded sharp cheddar cheese

½ cup pecan halves, roughly chopped
Directions
Heat butter and oil in a 12-inch oven safe pan (preferably cast iron) over medium heat. Add mushrooms and shallots; cook until mushrooms are golden brown, stirring occasionally, 5 to 6 minutes. Add rice and garlic; cook 1 to 2 minutes, until rice is toasted. Add thyme, broth, mustard, salt, and pepper. Bring mixture to a boil, cover and reduce heat to low. Cook 40 to 45 minutes, until rice is tender and liquid has been absorbed.

Preheat oven to 425°F.

Remove thyme sprigs and stir in broccoli. Add milk and Parmesan and stir until combined. Scatter cheddar cheese overtop and transfer pan to the oven. Bake for 20 minutes, until cheese is melted. Scatter pecans overtop and serve.
Nutrition Facts
Calories

446

Total Fat

21g

Saturated Fat

8g

Sodium

847mg

Dietary Fiber

6g

Sugar

4g

Protein

18g