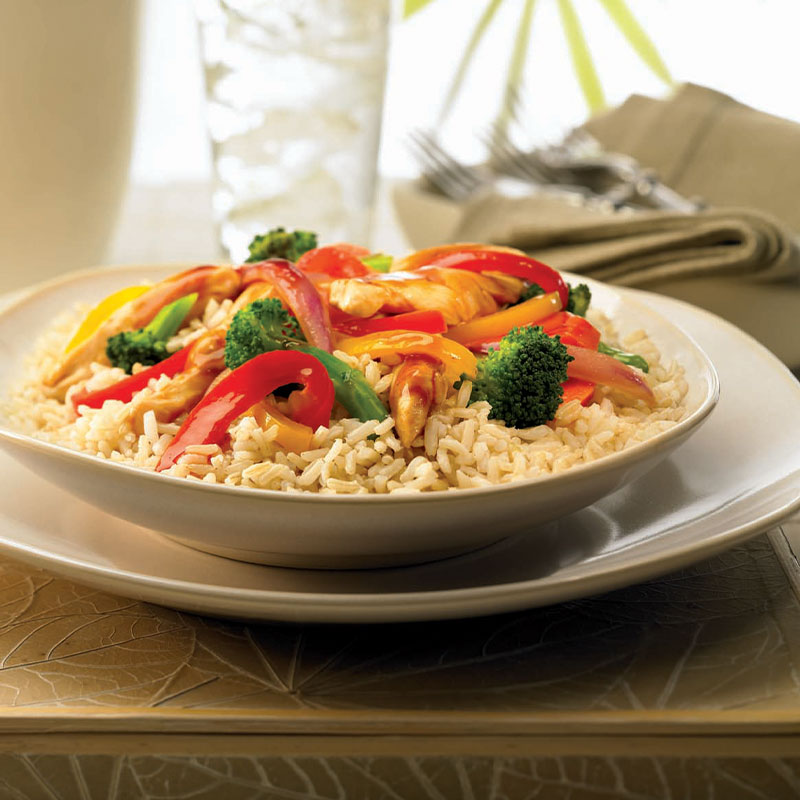 Orange Chicken and Vegetable Rice Bowl
Ingredients
2 tablespoons vegetable oil, divided

1 pound skinless, boneless, chicken breasts, cut into strips

2 cups broccoli florets

2 carrots, thinly sliced

1 medium onion, sliced

1 yellow bell pepper, sliced

1 red bell peppers sliced

1 tablespoon fresh ginger, grated

14 ounces low-sodium chicken broth

½ cup orange juice

1 tablespoon orange zest

3 tablespoons light soy sauce

2 tablespoons cornstarch

3 cups cooked brown rice
Directions
In a large skillet or wok, heat 1 tablespoon of oil; add in chicken and stir fry until lightly browned; remove and set aside.

In same skillet, heat remaining oil; stir fry vegetables and ginger 4-5 minutes, or until vegetables are tender crisp.

Combine chicken broth, orange juice and zest, soy sauce and cornstarch in bowl and stir until smooth. Add to skillet, stirring constantly. Boil 1 to 2 minutes or until thickened. Stir in chicken and cook until heated through. Spoon over or toss with warm rice.

Nutrition Facts
Calories

300

Total Fat

7g

Saturated Fat

1g

Cholesterol

45mg

Sodium

400mg

Carbohydrates

37g

Dietary Fiber

4g

Protein

23g