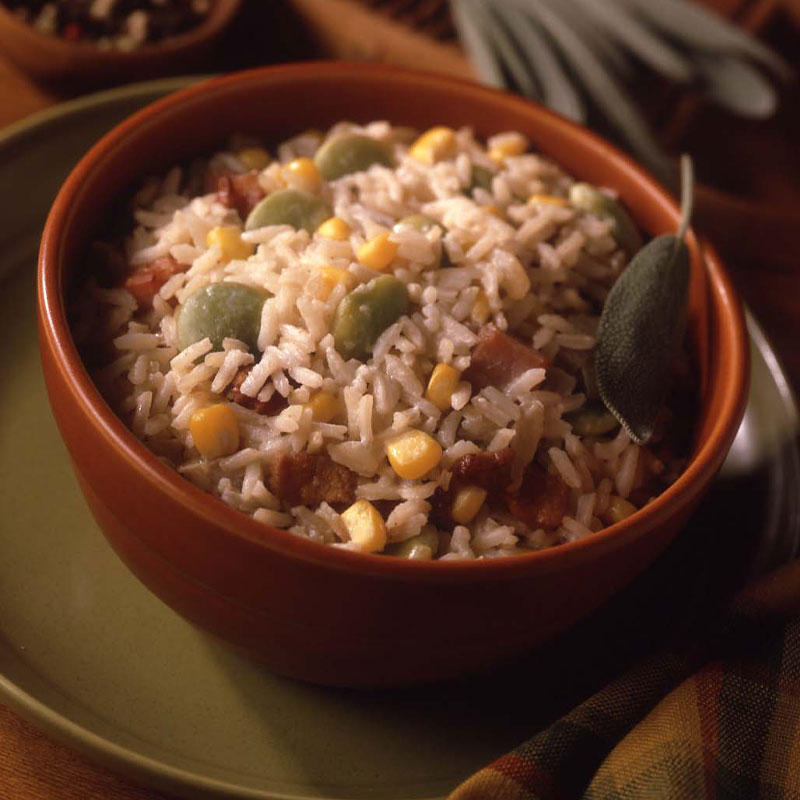 Ingredients
4 slices thick-cut bacon, chopped

1 cup lean ham, cubed

1 medium onion, chopped

½ teaspoon ground sage

1 (10-ounce) package frozen corn, partially thawed

1 (10-ounce) package frozen lima beans, partially thawed

1½ cups milk

1 teaspoon sugar

¼ teaspoon salt

¼ teaspoon ground black pepper

6 cups hot cooked rice
Directions
Heat large skillet over medium heat until hot. Add bacon, ham, onion and sage. Cook and stir 8 to 10 minutes until onion is brown and bacon is crisp. Drain fat.

Add corn and beans; cook, stirring, 5 to 7 minutes or until vegetables are thawed and tender. Add milk, sugar, salt and pepper. Simmer, stirring occasionally until liquid is slightly reduced.

Just before serving, stir in rice, cook 2 to 3 minutes more or until mixture is thoroughly heated. Serve immediately.