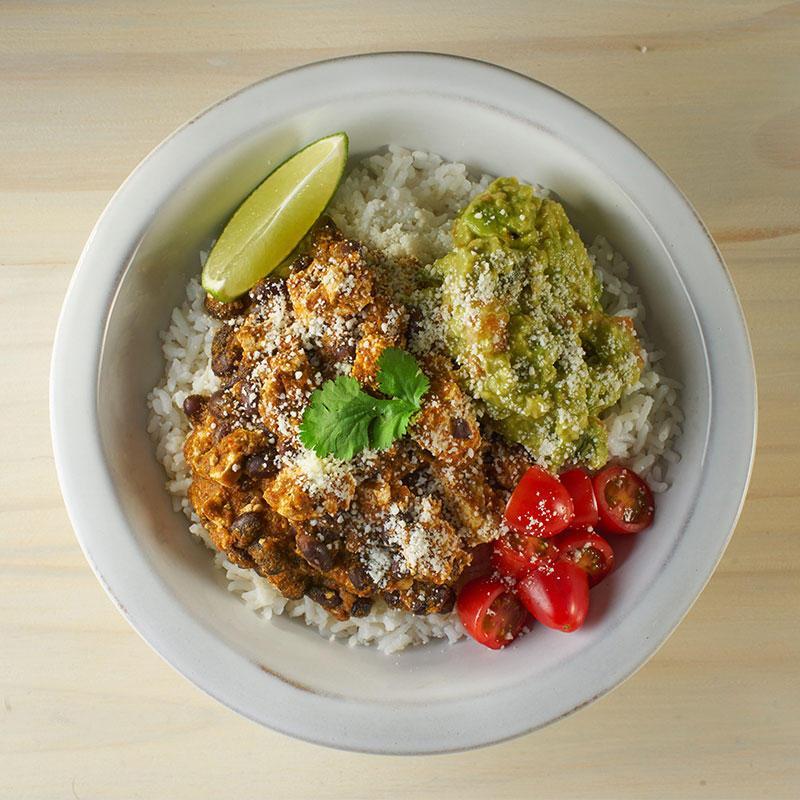 Ingredients
3 cups U.S. long grain white rice, cooked

3 cups tofu sofritas

1 cup guacamole

3 tablespoons tomatoes, diced

2 tablespoons cilantro, chopped

2 tablespoons cotija, crumbled

Tofu Sofritas:

16 ounces tofu, extra firm and drained & pressed

1 teaspoon smoked paprika

1 teaspoon cumin

½ teaspoon oregano, dried

½ teaspoon onion powder

½ teaspoon salt, kosher

2 tablespoons canola oil

2 poblanos, roasted & minced

3 tablespoons chipotles, minced and in adobo

2 hot house tomatoes, diced

1 tablespoon tomato paste

4 garlic cloves, minced

¼ cup onion, diced

1 (10-ounce) can canned black beans, drained & rinsed

as needed lime juice
Directions
Sofritas Bowl:

Cook rice and reserve warm.

Prepare sofritos and hold warm until ready to use (sub-recipe).

Build bowls in following order:
-Cooked rice
-Tofu Sofritas
-Guacamole
-Diced tomatoes
-Chopped cilantro
-Cotija

Tofu Sofitas:

In small bowl, combine tofu and spices.

Heat oil in pan and saute spiced tofu until golden brown.

Remove tofu and reserve for later use.

In a blender combine poblanos, chipotles, tomatoes, tomato paste, onion, and garlic, blending until smooth.

Add mixture to pan and bring to a simmer.

Add in seared tofu and rinsed beans and cook 15-20 minutes or until beans begin to soften.

Adjust the seasoning of the Tofu Sofritas as it cooks with lime juice and salt.