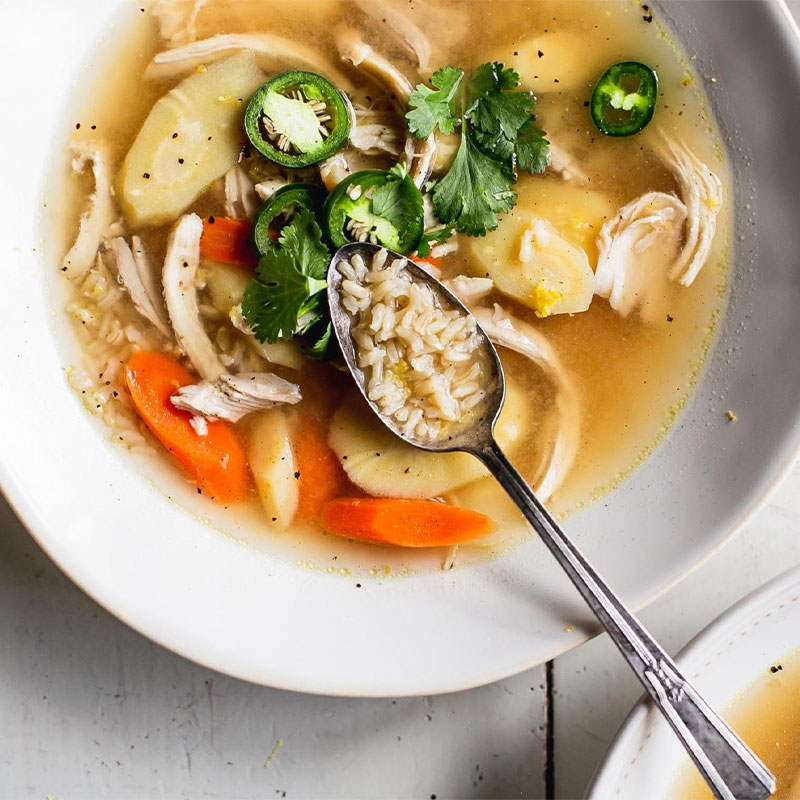 Spicy Bone Broth, Chicken & Rice Soup
All will enjoy this comforting twist on a childhood favorite, Spicy Bone Broth, Chicken & Rice Soup. Perfect for cold weather and brought you by our friend Ashley Cuoco in partnership with The FeedFeed & USA Rice.
Servings

6-8

Total Time

4 hr
Ingredients
Spicy Bone Broth

3 pounds chicken parts with skin

1 tablespoon apple cider vinegar

1 tablespoon whole peppercorns

1 tablespoon olive oil

yellow onion, skin on & quartered

celery stalk, halved

2 carrots, skin on roughly chopped

2 garlic cloves, skin on & smashed

2 jalapenos with seeds, halved

handful of cilantro sprigs
1 bay leaf
Chicken & Rice Soup

salt & freshly ground pepper

2 carrots, peeled & chopped into 1/2 rounds

2 parsnips, peeled & chopped into 1/2 rounds

¾ cup brown rice, uncooked

1 tablespoon lemon juice

1 teaspoon lemon zest

1 jalapeno, sliced for topping

2 tablespoons cilantro leaves, for topping

Directions
To a large stockpot or 5-6-quart cast iron pot, add chicken, onion, celery, carrot, ginger, garlic cloves, jalapeno, peppercorn, vinegar, cilantro and bay leaf. Cover completely with water, about 8-10 cups.

Bring to a boil over high heat. Dial back heat to low and simmer, covered, for 30 minutes.

Using tongs or a slotted spoon, carefully remove chicken from pot and let cool on a plate. Allow broth to keep simmering over low heat, covered. When chicken is cool enough to handle, shred into bite sized pieces with your fingers, reserving the bones. Refrigerate shredded meat.

Preheat oven to 400F. Rinse bones and dry thoroughly. Toss with olive oil on a rimmed baking sheet and roast for 20 minutes.

Add roasted bones to stockpot. Add an additional 2-4 cups water, making sure vegetables and bones are fully submerged. Bring up to a boil and then reduce back to a simmer over low heat. Let simmer, covered, for 4 hours. Be sure broth is simmering over low heat, not a rapid boil.

Strain the broth into a large bowl or pot through a fine-mesh strainer. Discard all the solids. Carefully wipe down stock pot and return to it the strained, hot broth. (If making broth in advance, transfer hot broth to quart sized canning jars, seal tightly and refrigerate or freeze until ready to use. Heat thoroughly and bring to a full simmer on low heat before continuing on).

Taste and season with a generous sprinkling of salt and pepper until flavors are brought out.

Add rice to broth and cook, covered, for 30 minutes. When 8 minutes remain, add carrots and parsnips.

Add cooked, shredded chicken. Stir in lemon juice and zest. Top with jalapeno slices, cilantro and cracked pepper. Serve hot.