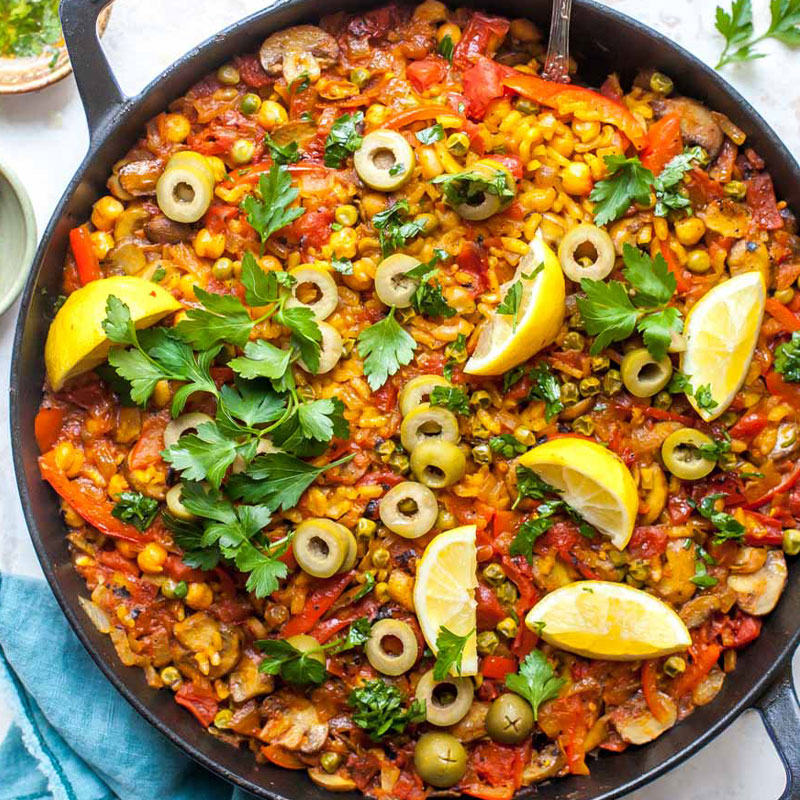 Vegetarian Paella
This Vegetarian Paella comes together in under an hour using simple ingredients. Starring U.S.-grown short grain rice, this recipe brings all the flavor and comfort of the classic Spanish rice dish and comes to us from our friend Jamie Vespa RD in partnership with USA Rice.
Servings

6

Prep Time

10 min

Cook Time

45 min

Total Time

55 min
Ingredients
1½ cup short grain rice

¼ cup + 2 tablespoons extra-virgin olive oil, divided

1 yellow onion, finely chopped

1 red bell pepper, thinly sliced

8 ounce cremini mushrooms, sliced

3 garlic cloves, minced

1½ teaspoons paprika

1 teaspoon saffron threads

1 teaspoon kosher salt

½ teaspoon black pepper

1 cup dry white wine

15 ounce can chickpeas, rinsed and drained

15 ounce can diced fire-roasted tomatoes

2½ cup vegetable broth

½ cup frozen green peas, thawed

¼ cup fresh parsley, finely chopped

lemon zest & juice

⅓ cup green olives, sliced
Directions
Heat ¼ cup oil in a large high-sided skillet with a fitted lid over medium-high. Add onion, bell pepper, and mushrooms; cook 7 to 8 minutes, until softened. Add garlic, paprika, saffron, salt, and pepper; cook 2 minutes, until fragrant.

Add wine and cook 2 to 3 minutes, until mostly reduced. Stir in rice; cook 2 to 3 minutes, until rice begins to turn translucent. Stir in chickpeas, tomatoes, broth, and green peas. Bring to a low boil, reduce heat, cover, and cook 25 minutes.

Meanwhile, combine parsley, lemon zest and juice, and remaining 2 tablespoons oil in a small bowl. Once rice is cooked, remove lid and cook 5 more minutes. Scatter parsley oil overtop, and garnish with olives, if desired.

Recipe Notes
Store in an airtight container and refrigerate up to 4 days.
Nutrition Facts
Calories

427

Total Fat

12g

Saturated Fat

2g

Sodium

690mg

Carbohydrates

61g

Dietary Fiber

6g

Sugar

9g

Protein

9g