June 23, 2021
Arancini, the Rice Move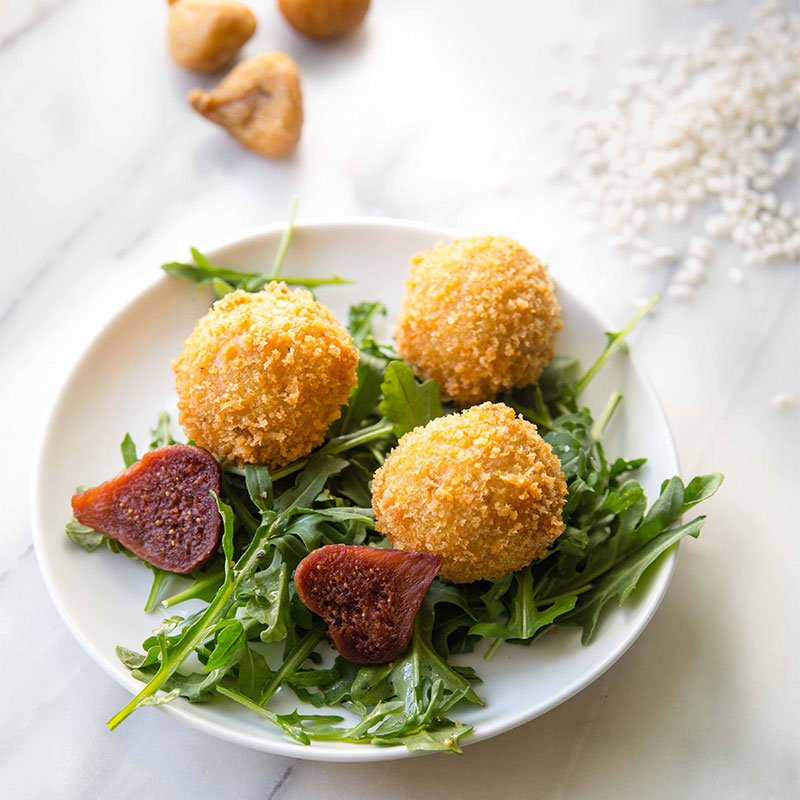 If you have U.S.-grown Arborio or short grain rice and some California Dried Figs on hand, you have the beginnings of an appetizer that appeals to all. Arancini crunchy rice balls, created by USA Rice Chef Hari Cameron are filled with a prosciutto, fig, and mozzarella middle tucked into creamy cheesy rice with a crunchy coating. There are a few steps to making them but they will be the hit of any party!
Arancini Explained
While arancini is Italian for "little orange," they are known as a small rice ball stuffed with a savory filling, rolled in breadcrumbs and then fried.
Made with U.S.-grown short grain rice, this recipe brings together authentic flavors, cultural influences, and the highest quality grains available while supporting your local rice farmers. Short grain rice is the smallest grain size variety with short and almost round rice kernels and has a starch known as amylose which allows the cooked grains to be soft and stickier than other varieties, perfect for a risotto. Held to the highest growing, milling, and quality standards, U.S.-grown rice is a sustainably grown crop that ensures you are eating the world's cleanest and highest quality GMO-free rice while supporting American farmers and limiting your carbon footprint.
The secret's in the stock for the arancini as robust arborio (or short grain) rice plumps up. By adding a glug of stock at a time and stirring until the liquid is mostly absorbed before adding more liquid, the rice cooks but also soaks up all the stock until you finally have a creamy dish, bolstered with Parmesan and mascarpone. Then, the risotto is chilled until solid. If you've ever made risotto and had leftovers, you now know a popular way to give it new life too. (And trust us, you could make the risotto below and skip the rest, simply serving it with some of the port-infused mission figs for a sumptuous side dish).
The risotto gets rolled into balls (we used a tablespoon measuring spoon) and then you make a pinch pot, pressing a well into the middle as the fingers from your hand holding the rice ball cradles the ball so the outer edges stay intact. At this point you're ready to fill.
Fill with Figs (and Friends)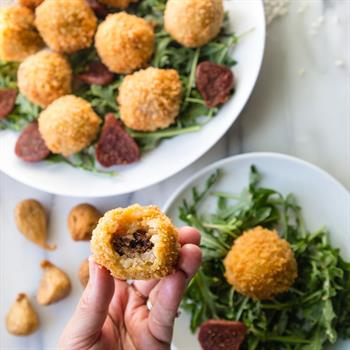 When it comes to the figs, we used our favorite California Dried Figs to match our California-grown rice! In Fresno, California where the hot summer sun is the perfect climate for growing figs, they sun-dry on the branch to harvest perfection before being packed and sold under the
Orchard Choice and Sun-Maid brands
. In this recipe, figs are a natural flavor partner for the combination of prosciutto, risotto, and cheese.
First we hydrate
California Dried Mission Figs
in port wine, which amplifies the natural familiar sweetness of the figs. The port-hydrated figs are pulsed together into a slightly chunky filling with prosciutto and fresh mozzarella for the filling. We used a ½ teaspoon to scoop some of that filling into the cavity of the arancini. But this isn't the only way the figs get used!
Then we halve the
California Dried Golden Figs
, which are delicately sweet and a little nutty, and hydrate them in port wine too. After they absorb some of the port, they are drained and cooled separately, to be used as a garnish for the final just fried arancini.



All in on Arancini
Once they are filled and rolled, they get coated in flour and then a dunk into whisked eggs before a final roll through breadcrumbs. These layers help create the crispiest outer shell while also buffering the tender rice and filling from the hot oil.
Finally, after a few hours in the freezer, the arancini are deep fried and served with a lemon vinaigrette dressed bed of greens—Chef Hari Cameron suggests frisée lettuce with its peppery flavor and frilly leaves, but if you can't find frisée, you could also try arugula.

Get the full Arancini recipe below!