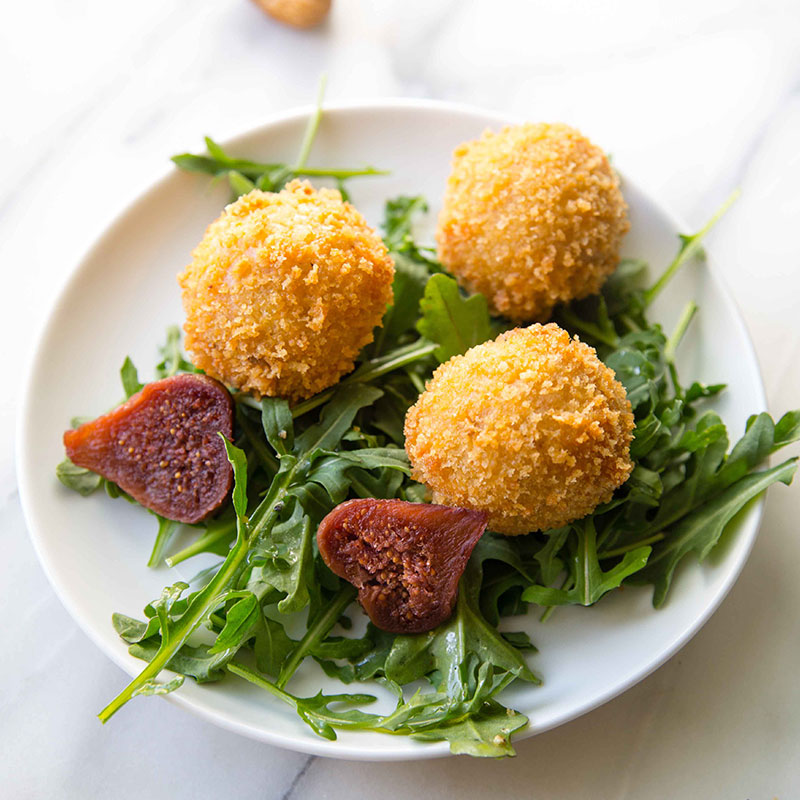 Fig and Prosciutto Arancini
Enjoy this tasty arancini dish featuring both California-grown short grain rice and California Dried Figs. Recipe developed by Chef Hari Cameron in partnership with USA Rice and Valley Fig Growers.
Servings

5

Serving Size

3-4 Arancini
Ingredients
Risotto

4 tablespoons unsalted butter

½ fennel bulb, small diced

1 shallot, small diced

2 cloves garlic, minced

1 cup of California Short Grain Rice

½ cup white wine

4½ cups of vegetable stock

⅓ cup freshly grated Parmesan cheese

½ tablespoon mascarpone cheese
salt & freshly ground pepper
Port-Infused Figs

4 ounces Orchard Choice or Sun-Maid California Dried Mission Figs, stemmed

5 ounces Orchard Choice or Sun-Maid California Dried Golden Figs, stemmed and halved
1½ cups port wine (enough to cover the figs)
Arancini

¼ ounce thinly sliced prosciutto di Parma
2-ounce ball fresh mozzarella, small diced
2 large eggs, lightly beaten
1 cup bread crumbs
oil for Deep Frying
frisée Lettuce (or arugula)
lemon vinaigrette (to dress lettuce if making small plates)
½ cup all-purpose flour, seasoned with salt and pepper
Directions
Make Risotto

Melt butter in a large pot over medium heat. Once melted, add fennel, shallot, and garlic. Cook for five minutes until the shallot is soft but not caramelized. Season with salt and pepper. Add the rice and cook for five minutes, stirring constantly until dry and fragrant. Add the white wine, stirring often until the rice has absorbed most of the liquid. Season the rice again with salt and pepper. Add one cup of hot stock and stir often until the rice has absorbed most of the liquid.
Continue adding the stock one cup at a time, until the remainder of the stock has been added, making sure that you are constantly stirring the entire time. At this point, taste the rice for consistency and seasoning. You might need to cook for a scant amount of time longer until the rice is cooked through and the rice might need a little more seasoning. At this time, add Parmesan and Mascarpone. Refrigerate until cool.
Hydrate Figs in Port and Make the Filling

Put port wine in a small pot and season with a pinch of salt. Bring the port to a simmer and allow both figs to hydrate and cool separately. In a food processor pulse Mission Figs, prosciutto, and fresh mozzarella until combined.
Make the Arancini

With your hands, a spoon, or a small ice cream scoop, form balls of chilled rice to a one-inch diameter. Using your thumbs make an indentation in the center and fill with ½ teaspoon of the mixture Pinch around the edges to enclose and roll into a ball to reshape each ball.
Season the all-purpose flour with salt and pepper, lightly whisking. Roll each of the balls in the seasoned all-purpose flour until coated. Then roll balls in the beaten egg mixture, and finally in the breadcrumb mixture making sure to coat evenly. Gently tap off any excess. Place the balls in a covered container and freeze for one to two hours.
Fry at three hundred and twenty-five degrees Fahrenheit until golden brown cooking for two to three minutes. Pat fritters of any excess oil and season with salt. Serve on a bed of frisée or arugula with port-hydrated fig halves. Enjoy!

Recipe Notes
Makes 21 Hors d' Oeuvres or 5 Small Plates