February 12, 2021
Craving a restaurant quality meal at home? Look no further than Lobster Risotto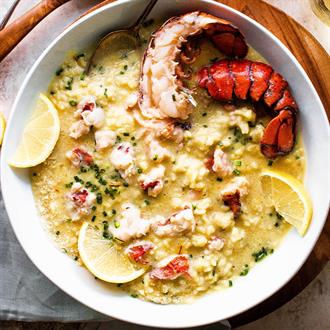 To be honest, we aren't huge on elaborate celebrations. We don't do flowers, or chocolates, or extravagant things—just a nice, elegant meal cooked at home. This year, I've partnered with The Feedfeed and USA Rice to bring you butter-poached lobster risotto. I'm honestly drooling at the thought! This is one of those meals that feels restaurant-quality, but it's so easy to make and you won't drop $$$.
Lobster risotto is honestly the perfect celebratory dish. It's sophisticated and impressive, but it won't have you over the stove for hours because risotto comes together in about 30 minutes. Serve with a large salad on the side and maybe some crusty bread (don't forget the wine!), and you'll wonder why you ever spent another celebratory meal at a restaurant in the first place. If you're nervous about making risotto, don't be. It couldn't be easier! If you're a visual person, I've got a risotto tutorial in my instagram highlights here. Happy cooking!
What is Risotto?
Risotto is a northern Italian dish made with starchy short or medium-grain rice (often times arborio or carnaroli) cooked with broth until it reaches a creamy consistency. I know that probably doesn't sound very exciting, but it's also loaded with cheese, and butter, and for this recipe: butter-poached lobster. As the rice cooks, it's stirred the entire time which releases the starches from the rice yielding a super creamy consistency. It may sound labor intensive, but I promise it's not! The stirring is just a great time to simultaneously consume some wine. The rice is truly the star of the dish which is why you're not likely to see heavy meats in risotto. Sometimes you'll see lighter proteins on top like seared scallops or, in this case, lobster. However, risotto is often meat-free as it's so rich on its own!
What kind of rice is used in risotto?
Typically, you will see arborio (short grain) or carnaroli (medium grain). Both are regional to northern Italy and work great. Really, any medium grain rice will do (don't tell your Italian grandma that though!). Did you know that arborio rice is grown here in the US in California, Arkansas, and Missouri? Nearly 80% of the rice that we eat in the US is grown by US farmers! Each year, 18 billion pounds of rice are grown and harvested by local farmers in Arkansas, California, Louisiana, Mississippi, Missouri, and Texas. I used the arborio rice from Rice Select, a company and brand committed to their mission of selling rice that is grown, milled, and packaged in the US.
Why use U.S.-grown rice?
It's so important to support US-based industries now more than ever! USA Rice Federation (USA Rice) is the global advocate for all segments of the U.S. rice industry. They work with farmers, millers, merchants and allied businesses to bolster and unify the US-grown rice industry. Did you know that many wildlife species rely on the wetland habitat created by American rice farmers? This makes rice a unique working-lands crop. Winter-flooded rice fields provide food and foraging habitat for migratory and wintering fowl. In fact, all major rice production areas in the United States correspond to important areas of waterfowl activity during winter months. In the regions where rice is grown in the U.S., rice agriculture provides 35% of the food resources available to migrating and wintering dabbling ducks. To read more about how important supporting the US-grown rice industry is, visit ThinkRice.com!
What tools are needed to make Lobster risotto?
A wide skillet with higher sides. Risotto is best made in a wide skillet or braiser, something that has a large diameter across with sides that are at least 2 inches high. I don't recommend trying to make risotto in a pot.


A good wooden spoon. Why do so many recipes call for a wooden spoon? Wood is non-reactive and it won't change the flavor of your risotto like some metal utensils will. Using a wooden spoon for stirring is recommended because wood is more porous than metal, silicon, or other materials used for cooking utensils, and thus is more abrasive against the surface of the rice - this means it removes more of this surface starch compared to other materials. Can you use a silicone spoon? Absolutely, I definitely have. But the Italians swear by wooden spoons and they clearly know what they're doing!

What kind of lobster meat is best for this recipe?
I personally like tail meat because it's easy to find, very tender, and it's so easy to work with. Whole lobster isn't my favorite because it's so much more work to cook and break down, especially since this recipe is intended for two.


What's butter-poached lobster?
Well, poaching is to cook something quickly in simmering liquid (think poached eggs!). In this instance, we are using melted butter infused with aromatics (garlic, bay leaf, and tarragon) that we'll gently cook the lobster in. Cooking it this way will ensure that we don't overcook it and it will be melt-in-your-mouth tender.


What's lobster stock and how do I make it?
Lobster stock is a broth made from the reserved lobster shells and some aromatics. You first start by removing the lobster meat from the tail shell. This can be accomplished by cutting the tail in half lengthwise with sharp kitchen shears or a sharp knife. The meat is then eased away from the shell and roughly chopped before cooking. If I'm making lobster risotto for dinner, I'll remove the meat from the tail shells about 2-3 hours before dinner and make a quick stock by combining the lobster shells, 1/4 of an onion, 1/4 fennel bulb, 2 carrots chopped, 1 bay leaf, and 1 tablespoon of black peppercorns with 3 quarts of water. Simmer until reduced by 2/3 so that you have about 4-5 cups of stock. Strain through a fine mesh strainer and reserve for cooking the lobster risotto. This is such a great way to use the shells and it makes the broth so flavorful.


Can lobster risotto be made gluten free?
Great news! It already is gluten free as the recipe is written.


Where's the best place to buy Lobster?
If you have a seafood market nearby, that would be my recommendation! Most well-stocked grocery stores will have them too like Whole Foods, Sprouts, etc. Anywhere with a robust seafood collection will definitely have lobster tails ahead of Valentine's Day.


Can I buy frozen lobster tails?
You can, but fresh is always best in my opinion. I would use frozen in a pinch but fresh will always be my preference and deliver the best results! If you do elect to use frozen lobster tails, make sure to defrost them in the fridge a day or two in advance. You'll want to pat the meat very dry before poaching it in the butter.

View Butter Poached Lobster Risotto recipe.

---
This post comes to us from our friend Jenny Goycochea (@jennygoycochea) of the So Much Food blog. The original article came be found here.

About the Author

Jenny Goycochea (@jennygoycochea) is the recipe developer and food photographer behind the SO MUCH FOOD blog. Based out of San Antonio, Jenny uses her past professional chef training to create approachable, yet exciting recipes for at-home cooks. She is in her first year of partnership with USA Rice and TheFeedfeed.

Recommended Risotto Recipes