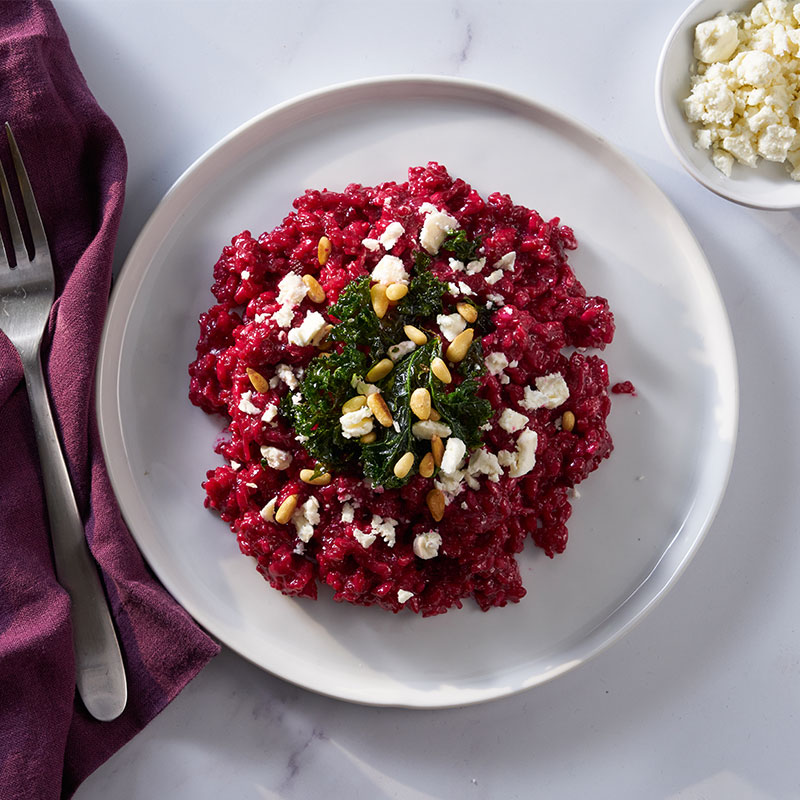 Roasted Beet Risotto
Eaters will love this pop of color in this Roasted Beet Risotto recipe starring U.S.-grown Arborio rice.
Servings

6

Total Time

1 hr 30 min
Ingredients
3 cup U.S.-grown arborio

6 tablespoons canola oil

1 ½ cups yellow onion, minced

2 tablespoons garlic, minced

1 quart chicken stock (heated)

¾ cup butter (unsalted)

¾ cup parmesan cheese, grated

2 cup kale, fried

6 tablespoons feta cheese, crumbled

6 tablespoons pine nuts, toasted

Roasted Beet Puree:

2 red beets, peeled and halved

¼ cup canola oil

3 tablespoons lemon juice

½ cup water
Directions
Pour oil into a medium sauce pot over medium-high heat.

Add onion to the pot and cook until onions begin to become translucent.

Add garlic and rice to the pot and continue to cook for 30-45 seconds over medium-high heat, stirring constantly.

Reduce heat to medium and begin to incorporate chicken stock to the rice in ¼ cup increments, stirring every 30 seconds.

Once rice is cooked al dente, fold in roasted beet puree, butter, Parmesan cheese, salt and pepper.

Serve 1 cup portions of risotto immediately topped with ¼ cup crispy kale, 1 tablespoon feta cheese, and 1 tablespoon pine nuts.

Roasted Beet Puree:

Pre-heat oven to 400°F.

Toss beets in canola oil and roast at 400°F for 25-35 minutes or until soft.

Transfer roasted beets to a food processor and blend with water and lemon juice until smooth.

Store covered in the refrigerator until ready to use.