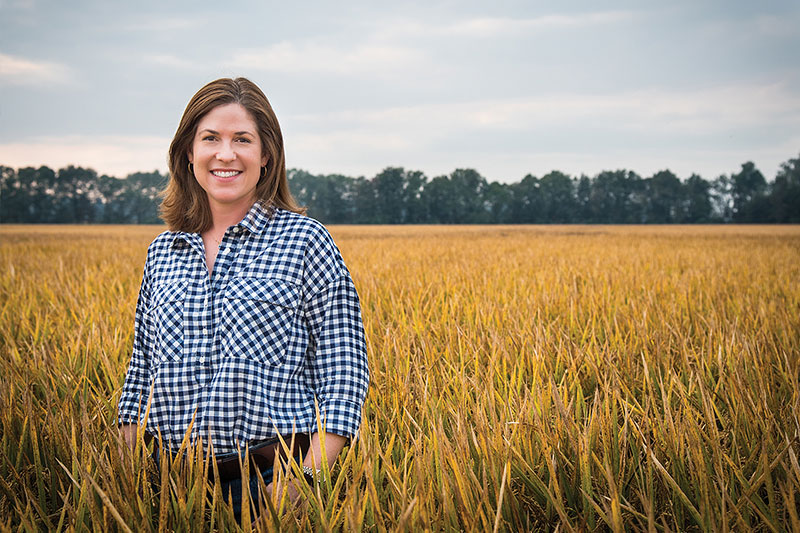 Jennifer James
Newport, Arkansas
Multi-Generational Farmer
Buzzwords like "sustainability" and "conservation" may seem trendy to corporate marketers, but for Jennifer James, a fourth-generation rice farmer from northeast Arkansas, these concepts have real, practical impact. Jennifer and her family farm more than 6000 acres near Newport, AR, around 2000 acres of which are rice. It's been recognized as an Arkansas Century Farm and was first purchased by her great-grandfather in the late 1800s.
But Jennifer was not always set on following in her forbears' footsteps. She had plans to move to a big city and become an accountant, a lawyer, or even a politician. But after attending the University of Arkansas Fayetteville, four hours from Newport in the Ozark mountains, she felt a strong pull to return home and carry on her family's legacy of sustainable farming and conservation of the land.
It is this strong connection to the land and her family's heritage that drives Jennifer's passion for sustainability and conservation. Tapping into the expertise available from rice research programs through the University of Arkansas agricultural extension system, she implements a comprehensive range of practices to conserve and protect water, air, and soil quality across her entire operation. Jennifer grows the highest quality rice while protecting and cultivating the land she calls home, taking advantage of cutting-edge technological innovations like laser land-leveling, tailwater recovery systems, reservoirs, wells, and moisture sensors that reduce water use and increase efficiency.
And in the winter, Jennifer's flooded rice fields provide critical habitat for thousands of migratory waterfowl and other wetland-dependent species, who earn their keep by helping to decompose rice straw. The flooded fields also prevent soil erosion and help control weeds, proving that agriculture and natural resource management go hand-in-hand.
Jennifer is well aware of the responsibility of land stewardship, and serves as a role model for her peers in the rice industry. As 2017 Field to Market Farmer of the Year and 2019 USA Rice Farmer of the Year, she leads by example, managing natural resources while boosting yields to meet the demands of a hungry planet. As chairman of the USA Rice Sustainability Committee, Vice Chairman of the Arkansas Rice Farmers Board, and the first woman elected to the Riceland Foods, Inc. Board of Directors, Jennifer has proven herself to be an indispensable advocate and leader for the rice industry as well as wildlife and the environment.
"Farmers are the first conservationists," says Jennifer. "Sustainability has carried over in agriculture and in my family from generation to generation, and I'm honored to play a role in passing it down to generations to come."
For more on Jennifer, visit her blog at
www.fieldgoodlife.com
.