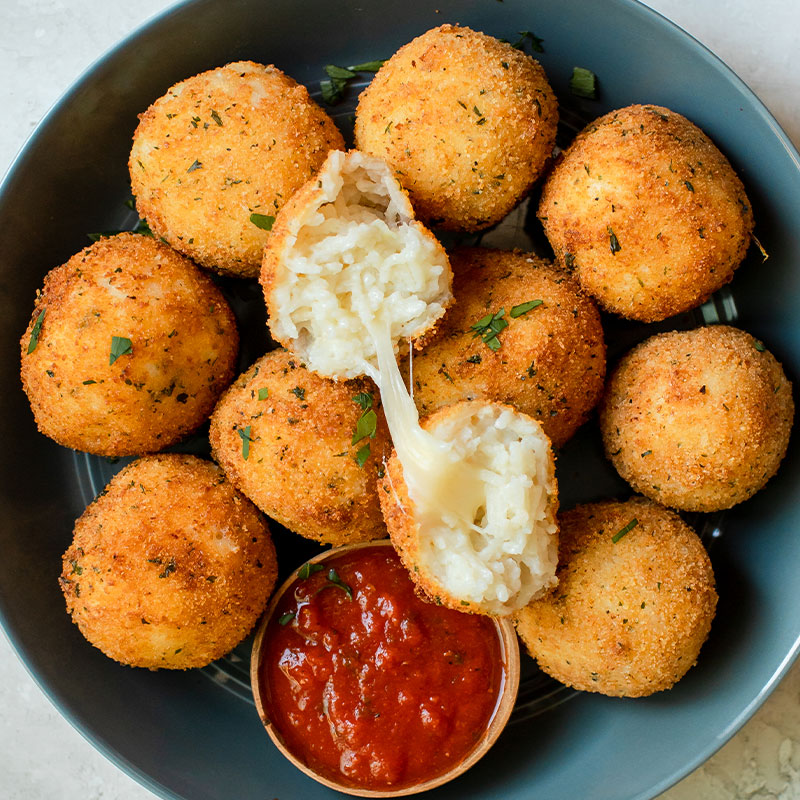 Arancini
These Arancini Rice Balls are golden and crispy on the outside and creamy and cheesy on the inside. Made with U.S.-grown basmati rice and developed by our pal Tawnie of Kroll's Korner, they are simply deep-fried rice perfection!
Servings

12

Serving Size

1 rice ball

Prep Time

1 hr 30 min

Cook Time

25 min

Total Time

1 hr 55 min
Ingredients
Rice

2 tablespoons unsalted butter

½ yellow onion, finely chopped

1 teaspoon salt

3 cloves garlic, minced

1 cup basmati rice
2 cups chicken broth
Béchamel

1 tablespoon butter

1 tablespoon flour

1 cup whole milk, room temperature
½ cup parmesan cheese, freshly grated
Arancini assembly

½ cup cubed mozzarella

⅓ cup flour

2 large eggs, beaten

¾ cup italian breadcrumbs

vegetable oil for frying (you'll need enough to add 2 inches deep into a pot)
Directions
Make rice on stovetop: Melt butter over medium-high heat in a saucepan. Add in onions and salt and cook, stirring occasionally, for 3-4 minutes. Add garlic and stir for 1 minute more. Add basmati rice and stir until evenly coated and grains look translucent. Add in the broth and bring to a small boil. Reduce heat to low, cover and simmer with lid on for 15-20 minutes. Remove from heat and allow to sit covered for 5 more minutes.

Make the béchamel: Melt butter in a saucepan over medium heat. Stir in the flour and cook, stirring constantly, until roux forms. Slowly add in the milk in small increments, continuing to whisk and stir as the sauce thickens. Whisk until smooth and all the milk is added. Add in the cheese, stir and remove from heat.

Pour rice into a large mixing bowl. Pour béchamel sauce over rice and stir to thoroughly combined.

Line a rimmed baking sheet with parchment paper. Spread rice out into an even thin layer and refrigerate for at least 1 hour.

Once rice is chilled, scoop a small handful and form into a flat disk. Place 1-2 small mozzarella cubes in the center and fold the rice around the cheese and shape back into a ball, being sure to enclose the cheese. Rice balls may be a little sticky but not too horrible to work with. You can use wet hands if too sticky. Place on parchment paper. Repeat to make 12 large rice balls or make smaller if preferred.

Line up the dredging station. Gather 3 shallow bowls. Place the flour in the first bowl, whisked eggs in the second bowl and breadcrumbs in the third. Roll rice balls in flour first, shaking off any excess. Dip in egg and then coat completely in the breadcrumbs. Place balls on a plate or baking sheet. Repeat with remaining balls. Refrigerate or freeze arancini while the oil heats, just enough to keep the rice balls cold.

Fill a medium saucepan over medium heat with at least 2 inches deep of vegetable oil and heat oil to 350°F. Cook arancini in batches of 3-4, rotating to ensure all rice balls evenly cook. This should take about 4-5 minutes. Once golden brown, use a slotted spoon to lift them, one by one, allowing excess oil to drip off. Place onto a paper-towel lined plate or baking sheet. Repeat with remaining arancini, topping up oil as needed and keeping oil at or around 350°F.

Let arancini cool slightly, sprinkle with more freshly grated Parmesan, parsley and serve with marinara or favorite dipping sauce.
Recipe Notes
To reheat: I recommend in the oven at 350°F until warm, about 10-15 minutes. This will also help keep the exterior crispy and the inside will get creamy again.

Storage: Once cooled, arancini keeps well in the fridge in a container lined with a paper towel for up to 5 days, covered.

Leftover risotto: Typically these rice stuffed balls are made with arborio rice or leftover risotto. If you have risotto and want to make that way, go for it!

Fillings: There are a variety of fillings you can choose, I kept it simple and used mozzarella. Common fillings include meat, peas, mushrooms, sausage, ham, spinach, and more.

Frying tips: When frying in oil be sure to get oil hot enough, I recommend 350°F. If you don't have a food thermometer to check, you'll know the oil is hot enough when a cube of bread turns golden in 20 seconds. Once hot, of course be very careful as you set rice balls into oil. I use a spoon or slotted spoon to drop each rice ball in, allow to cook in hot oil, turning to brown all sides. It's best to work in batches so you don't over crown the pot. Top up the oil as needed between batches.

Dip in your favorite sauces: pesto, marinara, garlic aioli, spicy sriracha aioli, etc.
Nutrition Facts
Serving

1 large rice ball

Calories

462

Total Fat

41g

Saturated Fat

12g

Trans Fat

1g

Cholesterol

45mg

Carbohydrates

23g

Dietary Fiber

1g

Sugar

2g

Protein

7g