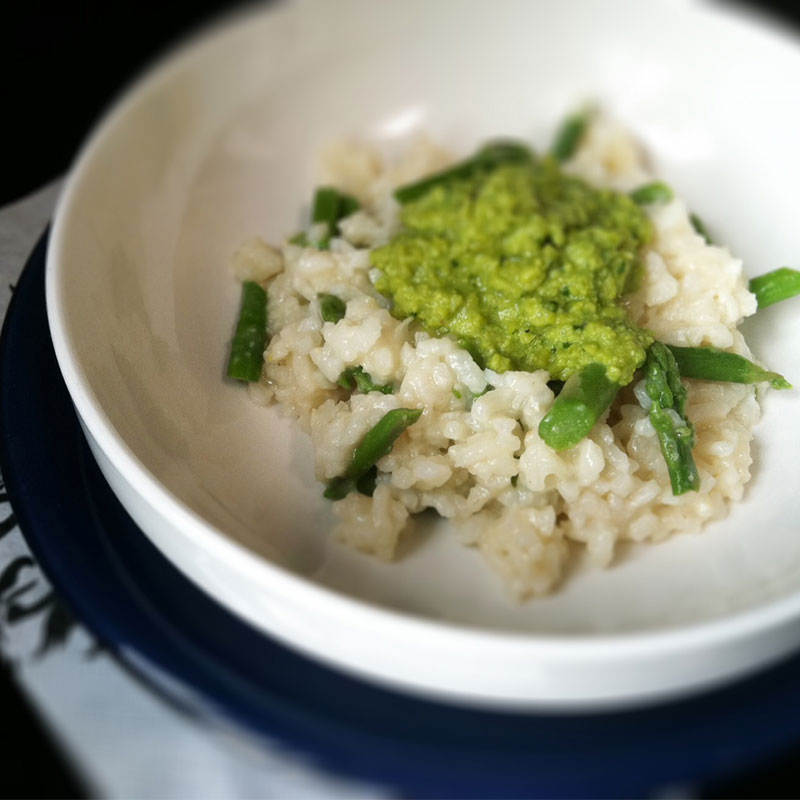 Asparagus Risotto with Spring Pea Pesto
Recipe courtesy of Beyond Celiac. Created by Sherrie Scaglione of Living Simply Gluten Free.
Ingredients
1 large shallot, chopped

1 clove garlic, minced

1 ½ cups U.S. Arborio rice

5-6 cups gluten-free vegetable broth or water

1 teaspoon kosher salt

3 tablespoon extra-virgin olive oil, divided

1 cup asparagus, cut into 1 inch sections

2 cups steamed peas

½ cup fresh basil leaves

1 tablespoon fresh lemon juice

¼ cup water
Directions
In a large pot, bring the vegetable broth or water to a boil. Once it is boiling, turn down the heat and keep it at a simmer.

In a large sauté pan, warm the olive oil over low heat. Add the garlic and shallots and cook for about 5 minutes or until they start to lightly brown.

Then add the rice and stir well. Cook for about 3 minutes.

Ladle 1 cup of the liquid into the rice mixture and simmer, stirring occasionally until the liquid is absorbed. Repeat this step, adding 1 cup of liquid at a time until the rice is cooked through but still a tad firm, about 35-45 minutes.

Steam asparagus until a bright green color, about 3-4 minutes. Do not overcook.

Combine all pesto ingredients in a blender or food processor and pulse until blended smooth. Serve over risotto.
Nutrition Facts
Calories

210

Total Fat

7g

Sodium

920mg

Carbohydrates

31g

Dietary Fiber

4g

Protein

5g