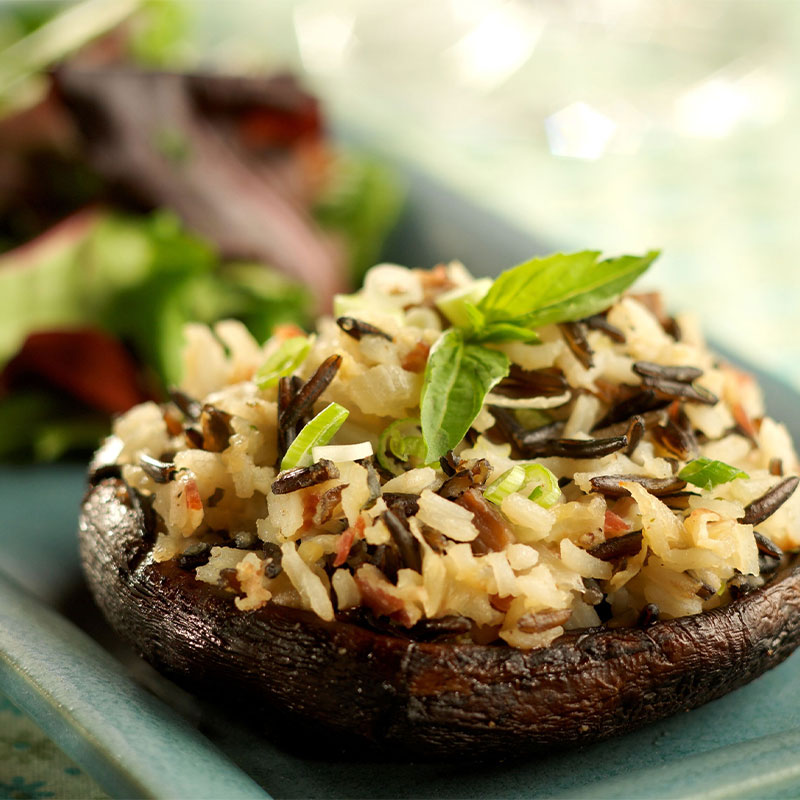 Fresh Herbed Portobellos with Brown and Wild Rice
Recipe adaptation courtesy of the California Wild Rice Advisory Board. Created by Chef John O'Toole Atlantic Culinary Academy Excellent with a green salad for lunch or use smaller portabellas and serve as appetizers
Servings

8

Serving Size

1 mushroom
Ingredients
8 large Portobello mushroom caps (about 2 lbs. total)

3 tablespoons canola oil

¾ teaspoon salt, divided use

12 slices center cut bacon

1 cup onion, chopped

2 garlic cloves, minced

½ cup dry white wine

3 cups cooked brown rice

1½ cups cooked wild rice

¼ cup scallions, thinly sliced

¼ cup fresh basil, chopped

1 tablespoon fresh oregano, chopped

1 tablespoon fresh thyme, chopped

¾ cup Parmesan cheese, finely shredded

½ teaspoon black pepper
Directions
Preheat oven to 375 degrees F.

Clean mushroom caps with a damp paper towel. Cut off stems from mushroom caps; rinse stems under cold water. Coarsely chop stems and set aside. Use a spoon to scrape out and discard gills from mushroom caps. Brush the oil over mushroom caps; place gill-side up on a baking sheet; sprinkle with ¼ teaspoon salt and bake 10 minutes or until tender and releasing juices.

Meanwhile, heat a large skillet over medium-high heat, cook the bacon until crisp, about 5 minutes, turning occasionally; remove from pan and set aside. Discard all, but 2 tablespoons bacon grease. Add the chopped mushroom stems to the hot grease and sauté for 1 minute. Add the onion and cook 3 minutes or until browned on edges. Add the garlic and cook 30 seconds, stirring constantly. Stir in the wine; cook 2 minutes or until reduced slightly and glossy, scraping bottom of skillet to remove particles. (Note: There will be some liquid remaining). Remove from heat.

Chop the bacon and stir into the onion mixture with the brown rice, wild rice, scallions, basil, oregano, thyme, ½ cup cheese, ½ teaspoon. salt and pepper.

Spoon equal amounts of the rice mixture on top of each mushroom. (Note: It will be very full.) Sprinkle evenly with the remaining ¼ cup cheese and bake 10 minutes or until cheese melts slightly.
Nutrition Facts
Serving

1 mushroom

Calories

280

Total Fat

15g

Saturated Fat

5g

Trans Fat

0g

Cholesterol

20mg

Sodium

580mg

Carbohydrates

26g

Dietary Fiber

2g

Sugar

2g

Protein

10g