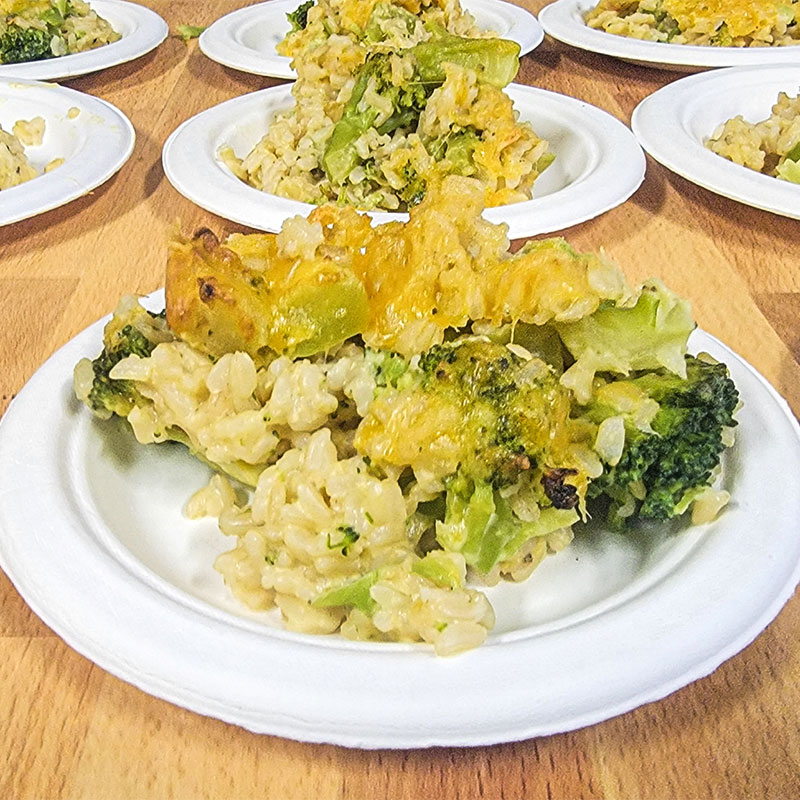 Broccoli and Rice Casserole
Students will love this cheesy and filling dish and so will you! It's versatile enough to use as a vegetable side or have it rice forward to meet your grain requirements.

This recipe stars U.S.-grown long grain white rice and comes to us from Chef Bettina Applewhite of USA Rice's K-12 Chef Advisory Board.
Servings

25-50

Serving Size

4 oz.
Ingredients
For 25 Servings
4 lbs broccoli, frozen
10 cups cooked rice
4 cups cheese sauce
1 cup shredded cheddar cheese
pan spray
For 50 Servings
8 lbs broccoli, frozen
20 cups cooked rice
8 cups cheese sauce
2 cup shredded cheddar cheese
pan spray
Directions
Preheat convection oven to 350º.
Prepare hotel pans by spraying with pan spray for 5 seconds for each pan used.
Mix cooked rice, cheese sauce, and broccoli.
Divide evenly between pans.
Top with 1 cup of shredded cheese per pan. Cover each pan with aluminum foil.
Bake in oven for approximately 30 - 40 minutes until casserole reaches a minimum internal temperature of 145º. During the last 10 minutes of cooking, remove the foil so that the shredded cheese can melt and turn golden in color.
Recipe Notes
One serving provides ¾ oz whole grain equivalent, ¾ cup green vegetables, ½ oz m/ma.