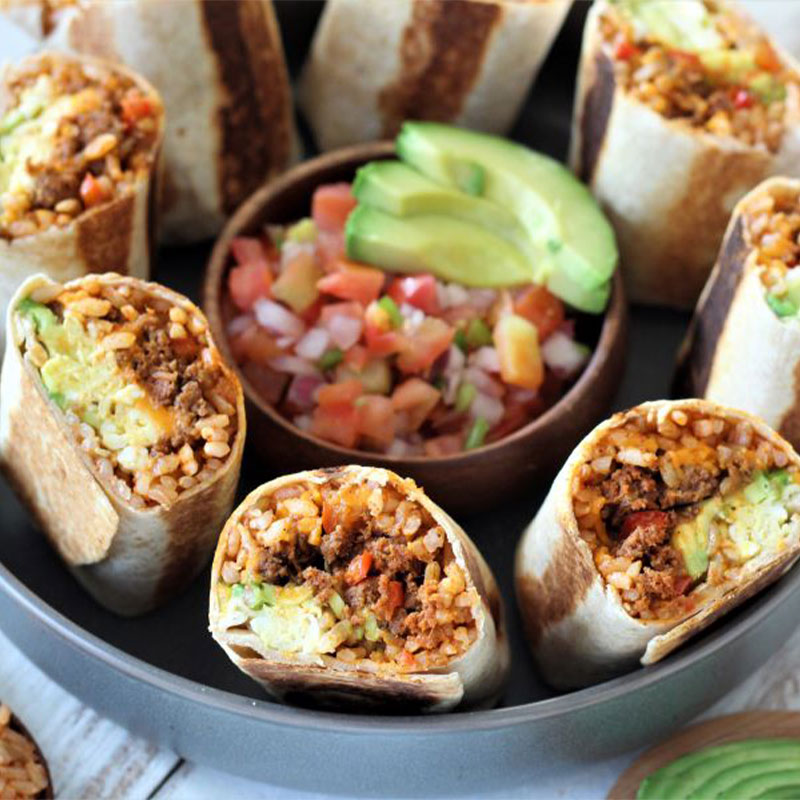 Brown Rice Chorizo Breakfast Burritos
Does anything beat a good breakfast burrito? This recipe features U.S.-grown brown rice and comes to us from our friend Laura of @waystomyheart in partnership with the Feedfeed.
Servings

4

Serving Size

1 burrito

Prep Time

15 min

Cook Time

20 min

Total Time

35 min
Ingredients
1 cup brown rice, cooked

¼ teaspoon garlic powder

¼ teaspoon onion powder

¼ teaspoon smoked paprika

¼ teaspoon chili powder

salt and pepper, to taste

1 bell pepper, diced

½ medium yellow onion, diced

½ pound chorizo sausage

3 eggs

splash of milk

non-stick cooking spray or olive oil

½ cup sharp cheddar cheese, shredded

1 avocado, sliced

4 8"-10" whole wheat tortillas

salsa, optional

hot sauce, optional
Directions
In a medium mixing bowl, add the cooked rice, garlic powder, onion powder, smoked paprika, chili powder, and a pinch of salt and pepper to the cooked brown rice. Stir to combine, cover and set aside to keep warm.

Next, add the peppers, onions and chorizo to a medium skillet over medium heat. Cook until chorizo is browned and cooked through, and veggies begin to soften, about 7 minutes.

Preheat a small skillet over medium heat. Spray with non-stick cooking spray if not using a non-stick skillet. Crack eggs into a small bowl, whisk in a splash of milk. Season with salt and pepper. Pour into a preheated skillet and scramble over medium-low heat, stirring with a spatula until cooked through. Remove from heat.

To Assemble:

On a flat surface, lay out the tortillas. Scoop about 1/4 cup of the seasoned brown rice onto each tortilla, and spread out into a flat layer. Next, add a layer of the chorizo and veggie mixture, about 3 tablespoons each (you'll have leftover meat mixture unless you use larger tortillas). Sprinkle with shredded cheddar cheese, followed by scrambled eggs, and sliced avocado. Be careful not to overfill.

Gently fold in the left and right sides, then tuck and roll the burrito forward, tucking all the filling in, keeping the sides tucked while rolling forward. Keep seam side down while you finish making the remaining burritos.

Preheat a flat-top or grill over medium heat. Lightly spray with non-stick cooking spray, or brush lightly with olive oil. Place the burritos seam side down to toast, about 3 minutes per side. Watch closely to avoid burning, and turn to toast on all sides.

Serve with fresh salsa and hot sauce if desired.