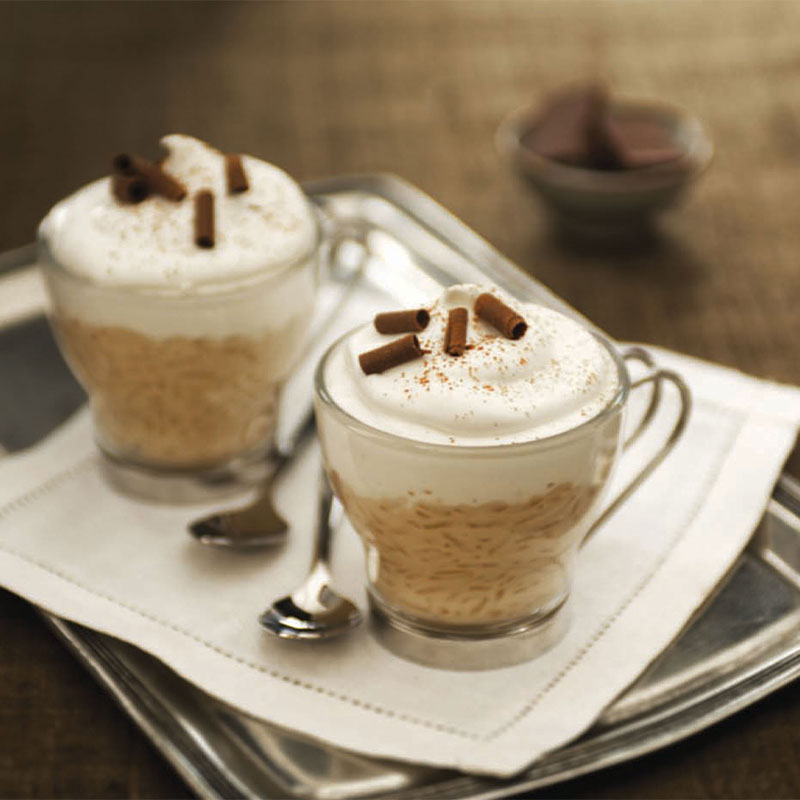 Cappuccino Rice Pudding Cups
"Rev Up Your Rice!" Recipe Contest Finalist- Jeanne Holt
Ingredients
3 cups cooked medium or long grain white rice

2 cups whole or 2% milk

1 (14-ounce) can sweetened condensed milk

1 tablespoon instant coffee granules

Sweetened whipped cream

Ground cinnamon

Chocolate shavings (optional)
Directions
Combine rice, milk and sweetened condensed milk in large saucepan over medium-high heat bringing just to a boil. Reduce heat to medium; cook 20 minutes, stirring frequently or until thickened. Remove from heat, stir in instant coffee granules until dissolved. Cool slightly.


Spoon equal amounts of warm pudding* into 8 small coffee cups. Top with whipped cream and sprinkle with cinnamon. Garnish with chocolate shavings, if desired.

Recipe Notes
If chilled, stir and reheat pudding in microwave-safe bowl for 2 to 3 minutes or until warm before serving.
Nutrition Facts
Calories

300

Total Fat

6g

Cholesterol

20mg

Sodium

85mg

Carbohydrates

53g

Protein

8g