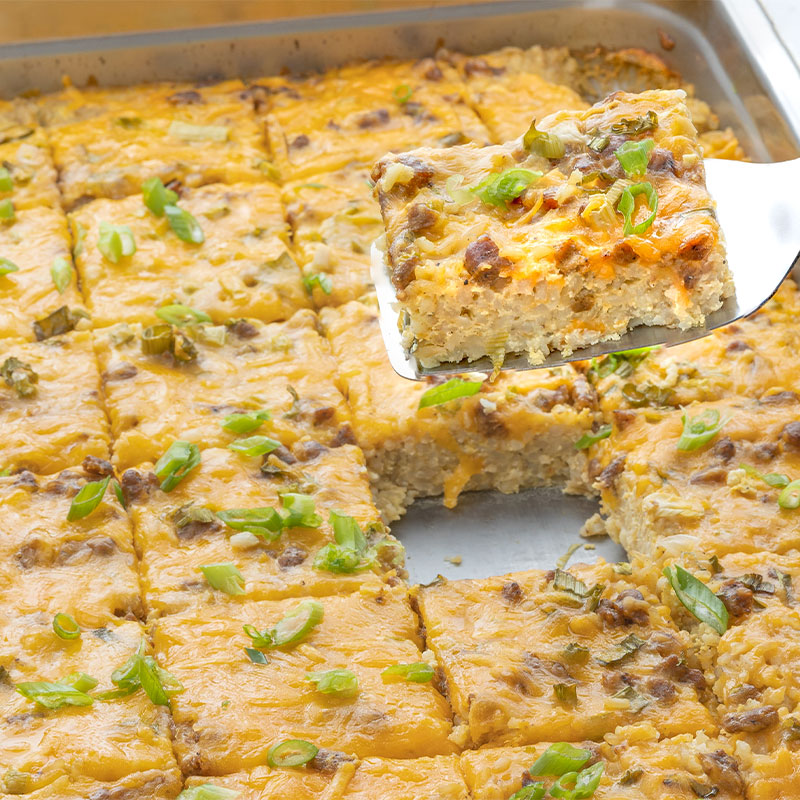 Cheesy Sausage Breakfast Bake
Start your students' day off the rice way with our Cheesy Sausage Breakfast Bake. This breakfast bake has a base of cheesy seasoned rice combined with breakfast sausage crumbles.

This tasty K-12 school recipe was created for us by our friend Chef Sam Cowens-Gasbarro of Healthy School Recipes. Click on the PDF below to download the full recipe with crediting from the USDA Food Buying Guide recipe analysis workbook (RAW).
Servings

48

Serving Size

1 slice
Ingredients
3⅛ pounds brown long-grain rice, parboiled, dry

3 quarts water

24 egg (.5 oz m/ma)

1 quart milk, low fat

4 tablespoons onion, granulated

4 tablespoons garlic, granulated

1 tablespoon kosher salt

2 teaspoons black pepper, ground

1½ shredded cheddar cheese, low sodium (.5 oz m/ma)

1 pound turkey sausage crumbles, low sodium
Directions
Combine rice and water in a 4-inch steamtable pan for 48 servings. Stir to combine. Cover tightly.

Oven Method: Cook in a 350 °F oven for 20 minutes.
Steamer Method: Cook in a steamer for 15 to 20 minutes.

CCP: Heat to 135 °F for at least 15 seconds.
Remove from oven or steamer and let sit for 10 to 15 minutes. Cool properly. CCP: Cool from 135 °F to 70 °F in 2 hours and from 70 °F to 41°F in 4 more hours.
Preheat oven to 350 °F.
Mix egg, milk, and seasonings together in a large bowl.
Spray two 2-inch steamtable pans with pan spray.
Place chilled rice in a layer at the bottom. Sprinkle evenly with sausage crumbles and cheese.
Pour egg mixture over the top and evenly distribute in the pan. Cover and bake for 45 minutes.
Remove from oven and add remaining cheese. Cover and place in warmer for 15 minutes to allow cheese to melt.
Cut the pans into 6 rows of 4 and serve.
Recipe Notes
One Portion Provides: 1 oz. eq. whole grain, 1.5 oz. m/ma

Source: Samantha Cowens-Gasbarro, Healthy School Recipes
Nutrition Facts
Serving

1 slice

Calories

240cal

Total Fat

9g

Saturated Fat

4.5g

Cholesterol

110mg

Sodium

200mg

Carbohydrates

60g

Dietary Fiber

27g

Protein

12g