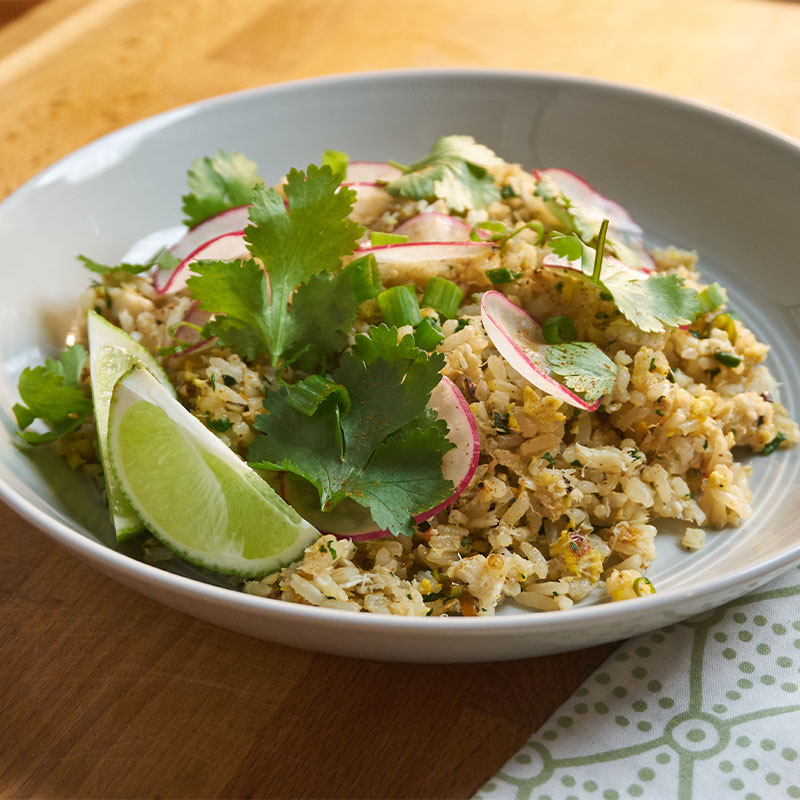 Chesapeake Blue Crab Fried Rice
Ingredients
4 cups U.S.-Jasmine rice, cooked

3 tablespoons rice bran oil (or grapeseed oil)

2 Thai chilies, sliced

4 garlic cloves, minced

2 eggs

½ pound jumbo lump crab meat, canned

4 scallions, thinly sliced

white pepper

white soy sauce

½ cup fresh cilantro leaves, minced

1 lime, quartered

1 radish, thinly sliced

4 pinches old bay spice
Directions
Heat ½ tablespoon vegetable oil in a large wok or a large round-sided saucepan on high heat until lightly smoking. Add chilies and garlic and cook, stirring, until fragrant, about 20 seconds.

Immediately add half of rice and cook, stirring and tossing, until rice is pale brown, toasted, and has a lightly chewy texture, about 3 minutes. Transfer to a medium bowl.

Heat another ½ tablespoon oil until smoking, add remaining rice, and cook, stirring, until it has the same texture as the first batch.

Return first batch of rice to wok and toss to combine. Push the rice over and add 1 tablespoon oil and crack egg into it. Using a spatula lightly scramble the egg. Season the egg with a pinch of salt. Chop egg into small pieces. Toss egg and rice together.

Add crabmeat, scallions, and fish sauce and soy sauce. Toss to combine and cook, tossing and stirring constantly, until crab is warm and scallions are lightly softened, about 1 minute. Season to taste with white pepper. Stir in cilantro. Garnish with more cilantro leaves, sliced radish and Old Bay.