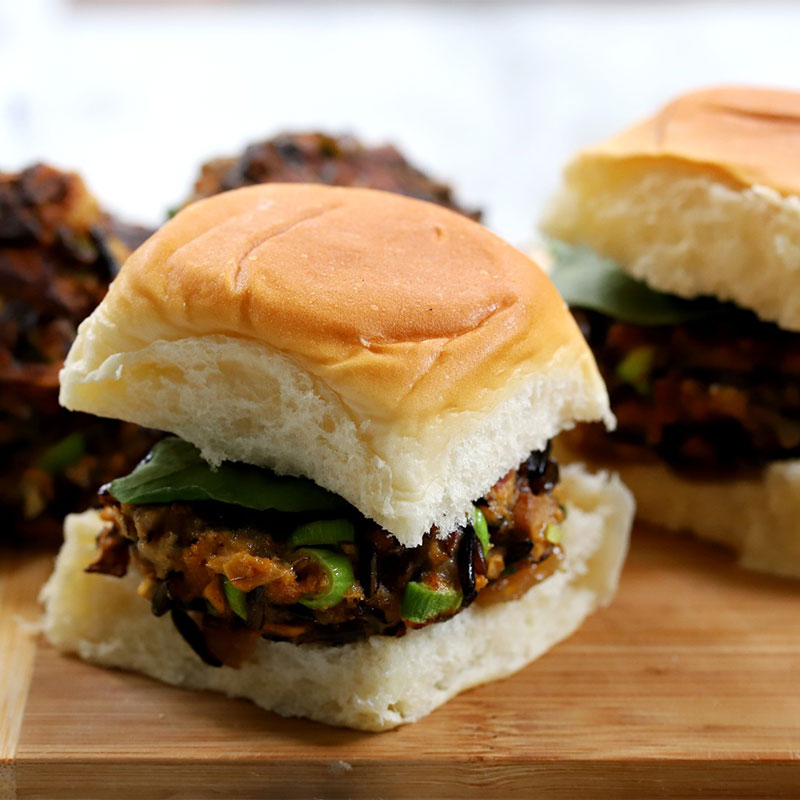 Wild Rice and Mushroom Sliders
These Wild rice and Mushroom Sliders are a must-try! Perfect for lunch or as an appetizer, these sliders are hearty, nutty, and vegetarian.

This recipe stars California-grown wild rice and comes to us from our friend Dixya of @Foodpleasurehealth in partnership with USA Rice.
Servings

4-5

Serving Size

2 sliders
Ingredients
Patties
1 cup cooked California wild rice

1 cup chopped mushroom (like shiitake mushroom)

¼ cup green onions

2 large eggs

1 cup bread crumb

small pinch of salt, pepper to taste

1-2 tablespoons neutral oil to cook

Assembly

8-10 slider buns

onion jam (or use a spread of your choice)

lettuce

Directions
Bring a large pot of water about 4 cups water per 1 cup wild rice. Once boiling, reduce the heat and close the lid and cook the wild rice for 45-50 minutes. Turn off the heat and let it cool. You will only need 1 cup of cooked wild rice for this recipe.

In a medium bowl, add chopped mushroom, cooked wild rice, chopped green onions, eggs and mix it together. Add breadcrumbs and season with salt and pepper. Let the mixture sit in the fridge for 15-20 minutes.

Once removed from the fridge, the mixture should be slightly wet but still be able to form a shape.

Use ¼ cup measuring spoon and form the wild rice and mushroom mixture into patties.

Heat a nonstick pan to medium and add 1-1½ tablespoons oil, then fry the patties 2-3 minutes on each side until golden and crispy.

Serve with your choice of slider buns and toppings.