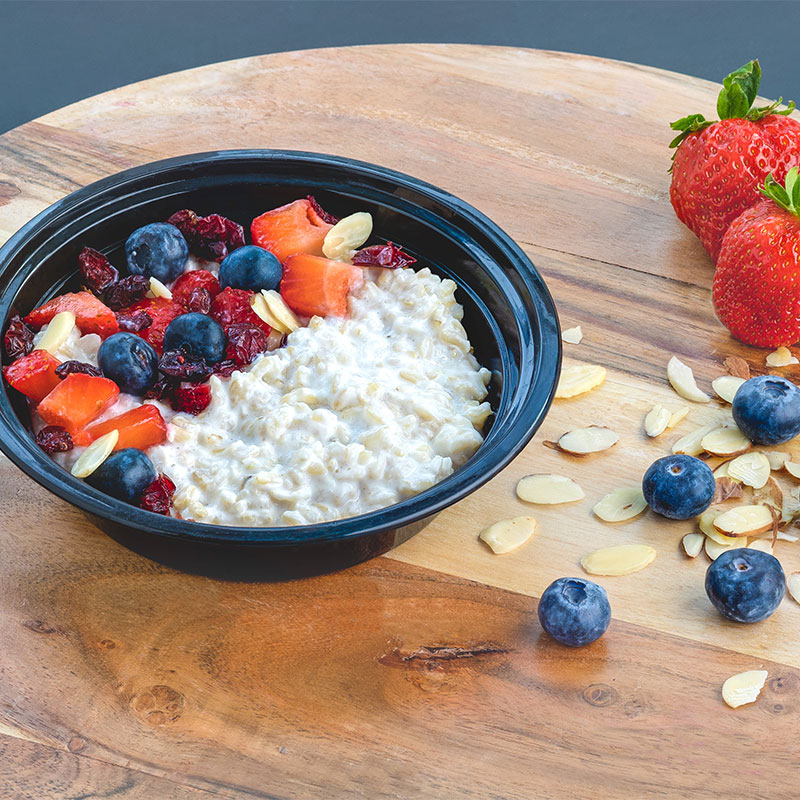 Chilled Breakfast Fruity Rice
Students will love this delicious breakfast recipe! Vibrant berries and almonds are served with cool, creamy yogurt rice. Starring U.S.-grown brown long grain rice, this dish is sweet, colorful, and satisfying. And it's a great way to utilize leftover rice!

This tasty K-12 school recipe was created for us by our friend Chef Sam Cowens-Gasbarro. Click on the PDF below to download the full recipe with crediting from the USDA Food Buying Guide recipe analysis workbook (RAW).
Ingredients
3 pounds, 2 ounces rice, brown, long grain, regular, dry
(25 cups of cooked, long grain, brown rice)

3 quarts, ½ cup water

6 ¼ quarts yogurt, low fat, vanilla

3 pounds strawberries, fresh or frozen, sliced or diced

2 pounds blueberries, fresh or frozen

1 pound, 14 ounces cranberries, dried

1 cup almonds, sliced (optional)

Directions
Combine rice and water into a 2-inch half-size steamtable pan. Stir to combine. Cover tightly. For 50 servings use 1 pan.

Oven Method: Cook in a 350 °F oven for 50 to 60 minutes.

Steamer Method: Cook in a steamer for 30 to 40 minutes.

Remove from oven or steamer and let stand for 15 minutes.

Remove cover; fluff rice with a fork. Chill thoroughly before combining with yogurt.
CCP: Hold cold, below 41 °F.

Mix chilled, cooked rice and vanilla yogurt in a large container. Stir well.
CCP: Hold cold for service, below 41 °F.

To assemble bowl, Portion ¾ cup rice/yogurt mixture. Add ⅛ cup strawberries, ⅛ cup blueberries, ⅛ cup dried cranberries and 1 teaspoon of almonds (optional).

One portion provides: 1 oz. eq. grain, 1 oz eq meat/meat alternate, ½ cup fruit

Recipe Notes
Yield/Volume: 4 quarts, 2 ½ cups creamy rice and yogurt mixture.

This can be served in a parfait cup.

This recipe is a good way to use leftover cooked rice.

Recipe source: Samantha Cowens-Gasbarro, Healthy School Recipes

Nutrition Facts
Calories

300

Total Fat

3g

Saturated Fat

1.5g

Cholesterol

5mg

Sodium

75mg

Carbohydrates

62g

Dietary Fiber

4g

Protein

8g