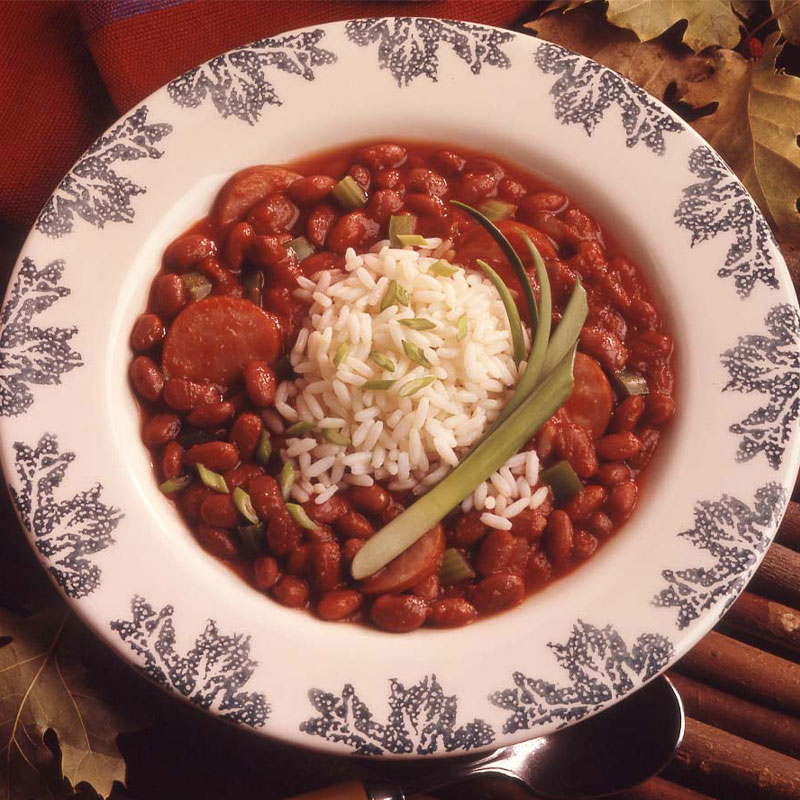 Red Beans and Rice (For 48)
This classic blends pinto beans with bay leaf, garlic, turkey ham, onions, thyme and Creole seasonings. Serve on top of long grain white rice to make a complete meal!
Servings

48

Serving Size

1 cup rice; ½ cup beans

Prep Time

20 min

Cook Time

3 hr

Total Time

3 hr 20 min
Ingredients
¼ cup vegetable oil

2 quarts yellow onion

⅓ cup garlic

2 tablespoons creole seasoning

4 whole bay leaves

2 tablespoons black pepper

1 tablespoon dry leaf thyme

4 pounds pinto beans

1½ gallons water or stock

2 cups parsley

1½ gallons long grain or parboiled rice
Directions
In large brasier or tilting skillet, heat oil over medium-high heat; add onion and sauté 5 minutes, until starting to turn golden brown. Add garlic, Creole seasoning, bay leaves, pepper and thyme and continue cooking 3-4 minutes, stirring often.

Add turkey or ham and continue to cook 3-4 minutes or until heated through and mixture starts to caramelize.

Add beans and water or stock and bring to a boil; reduce heat, cover and simmer 3 hours or until beans are tender and liquid is reduced and thickened. Adjust seasonings.

Remove from heat and stir in parsley. For each serving, scoop ½ cup hot, cooked rice into a bowl and ladle top of rice with ½ cup beans.