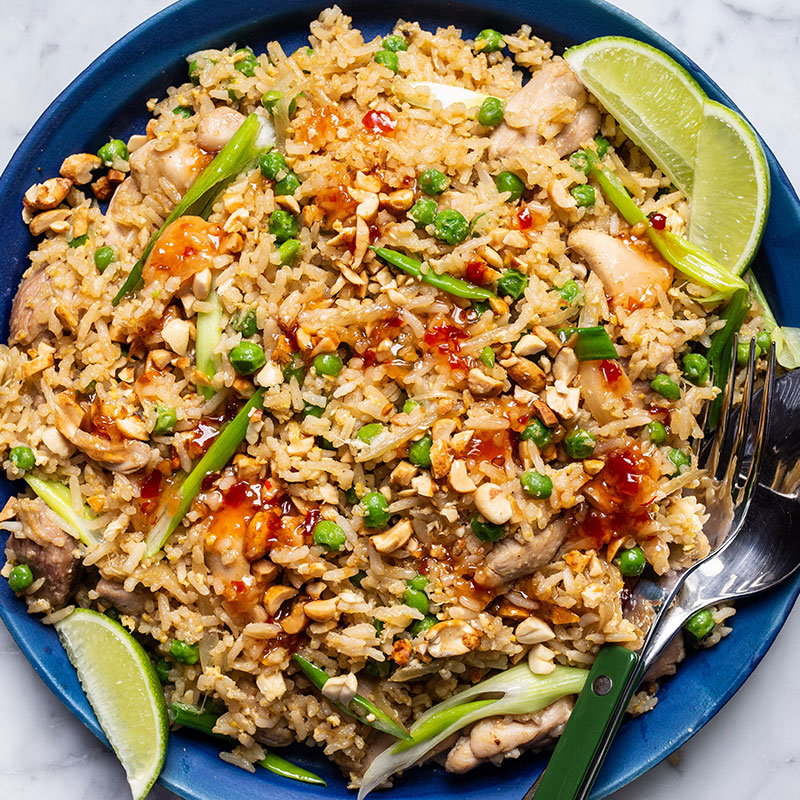 Chicken Green Onion Fried Rice
Fried rice in general is perfect for leftover rice and using whatever vegetables or proteins you have in the house! This Chicken Green Onion Fried Rice stars U.S.-grown white long grain rice and comes to use from our friend @LocalHaven in partnership with The Feedfeed and USA Rice.
Servings

4

Prep Time

15 min

Cook Time

40 min

Total Time

55 min
Ingredients
Chicken Brine

½ pound bone-in chicken thighs

1 tablespoon garlic, minced

½ teaspoon kosher salt
Soy Chili Sauce

3 tablespoons rice wine vinegar

2 tablespoons soy sauce

1 teaspoon chili oil

½ teaspoon sugar

¼ teaspoon crushed red pepper

Chicken Green Onion Fried Rice

4 cups U.S.-grown long grain rice, cooked (day-old)

3 tablespoons vegetable oil

½ medium yellow onion, sliced

1 cup thawed frozen peas

½ pound chicken thighs, cut into bite-sized pieces

2 eggs

3 tablespoons soy sauce

1 tablespoon sesame oil

1 teaspoon gochunjang

4 green onions, cut on an angle into 2" pieces
Directions
For the Chicken Brine:
Place chicken in a large bowl and sprinkle with minced garlic and kosher salt. Cover chicken with cold water and let sit for 20 minutes while you prep the rest of your ingredients. Remove chicken from bowl, discard liquid, and cut chicken into bite-size pieces.

For the Soy Chili Sauce:
Whisk everything together in a small bowl until the sugar has dissolved, set aside.

For the Chicken Green Onion Fried Rice:
Turn on your stove vent fan/open a window. Heat an empty wok or large skillet over high heat, as soon as you see smoke, add the oil. Swirling the oil in the pan, once it begins to shimmer, add the onions and cook, stirring occasionally until softened and translucent. Add the peas and mix together. Add the chicken and cook until opaque.
Crack both eggs on top of the chicken mixture and mix together, it should begin to look like scrambled eggs. Add the rice, soy sauce, sesame oil, and gochunjang. Continue to stir until the rice develops a golden color and the moisture has dried up. You want to really move that rice around the pan, allowing it not to stick.

Remove from the heat, mix in the green onions and serve with the soy-chili sauce.