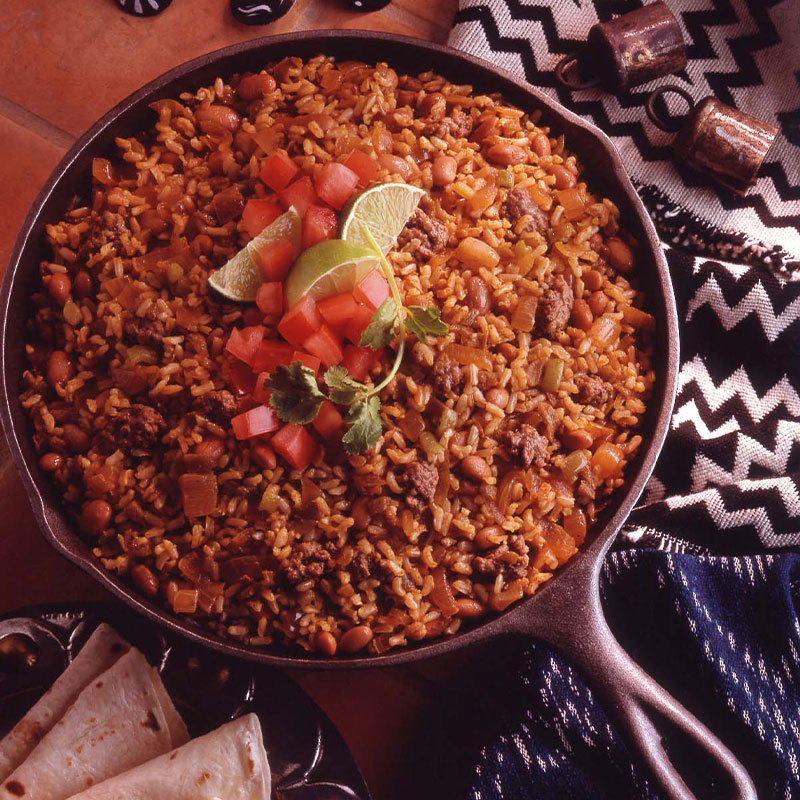 Chili Rice Bowl with Chips
Recipe developed for USA Rice by Chef Cyndie Story, PhD, RD, CC. Click on the PDF below for complete nutritional information and recipe information for 50 & 100 servings.
Servings

50

Serving Size

½ cup ; ⅔ cup chili
Ingredients
4 pounds 8 ounces ground beef, raw, 85%

1 pound 12 ounces (4 cups) onion, yellow, diced

½ cup chili powder

2 teaspoons black pepper, ground

2 teaspoons cumin, ground

1 teaspoon salt

6 pounds 10 ounces (3 quarts 2 cups) tomato sauce

4 pounds 12 ounces (1 gallon ½ cup) pinto beans, canned, drained, rinsed

7 pounds 13 ounces (1½ gallon 1 cup) brown rice, parboiled, cooked

1 pound 8 ounces (150 chips) tortilla chips, whole grain

13 ounces (1¾ cup) cheddar cheese, reduced fat, shredded
Directions
Brown ground beef in a tilt skillet, steam jacketed kettle or a stockpot.

Add onions, chili powder, black pepper, cumin and salt. Stir to combine and continue to cook until onions are translucent.

Add tomato sauce and pinto beans. Bring to a simmer and continue to simmer for 10 minutes.*Critical Control Point: Heat to 165°F or higher for at least 15 seconds.

Pour into serving pans.*Critical Control Point: Hold for service at 135°F or higher.

Portion ½ cup cooked rice into a serving bowl using a number 8 disher. Add ⅔ cup of beef and pinto chili using a number 6 disher. Place 3 tortilla chips on the side and top chili with 1 tablespoon shredded cheddar cheese.

Nutrition Facts
Calories

298

Total Fat

9.96g

Saturated Fat

3.79g

Cholesterol

21.41mg

Sodium

418.08mg

Carbohydrates

38.95g

Dietary Fiber

5.52g

Protein

12.95g