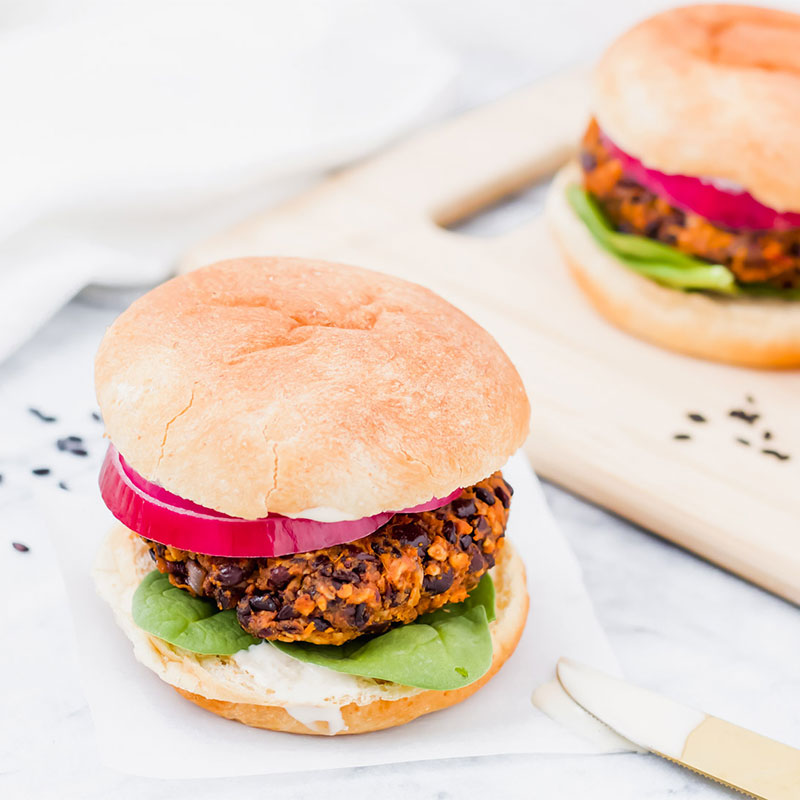 Purple Rice Burger with Garlic Aioli
Our Purple Rice Burgers with Garlic Aioli may be the best veggie burger in town! The burgers star U.S.-grown purple rice so they are packed with antioxidants and feature black beans & sweet potatoes to make it a powerful plant-based protein dish.

This recipe comes to us from our friend @chelsealeblancrdn in partnership with USA Rice and FeedFeed.
Servings

8

Serving Size

1 burger

Prep Time

50 min

Cook Time

30 min

Total Time

1 hr 20 min
Ingredients
Burgers

2 medium sweet potatoes

1 cup cooked purple rice

1 (15 ounce) can low-sodium black beans, rinsed and drained

½ small red onion, diced

1 tablespoon minced garlic

2 teaspoons smoked paprika

1½ teaspoons ground cumin

1 teaspoon chili powder

1 tablespoon brown sugar

¼ teaspoon salt

1 cup quick-cooking oats

1-2 tablespoons extra-virgin olive oil

8 whole wheat hamburger buns
Toppings: lettuce, tomatoes, red onion, spinach, cheese, etc.
Garlic Aioli

½ cup mayonnaise

1 tablespoon lemon juice

2 garlic cloves, minced

1 teaspoon Worcestershire Sauce

salt, to taste
Directions
Preheat the oven to 400F. Line a large baking sheet with parchment paper or aluminum foil.

Slice the sweet potatoes down the middle lengthwise. Place the sweet potatoes, cut side down, on baking sheet. Roast for 30 to 40 minutes or until tender and easy to squeeze. Let cool. Set aside baking sheet for burgers (no need to remove the parchment). Keep oven on.

Make the garlic aioli: combine mayonnaise, lemon juice, garlic, Worcestershire and salt in a small jar. Cover and refrigerate for at least 30 minutes. This will help the aioli thicken and the flavors meld.

Once the sweet potatoes have cooled, remove and discard skin. In a large mixing bowl, using a potato masher, combine the sweet potatoes, purple rice, black beans, red onion, garlic, smoked paprika, cumin, chili powder, brown sugar and salt. Sprinkle the oats over the mixture and mix well with a large spoon. The burger mixture should hold together when formed into patties.

Use a ½ cup measuring cup to portion out 8 burgers and form into patties. Brush both sides of patties with olive oil and place on lined baking sheet. Bake for 30 minutes, flipping halfway through. Serve on buns with your favorite toppings and garlic aioli.