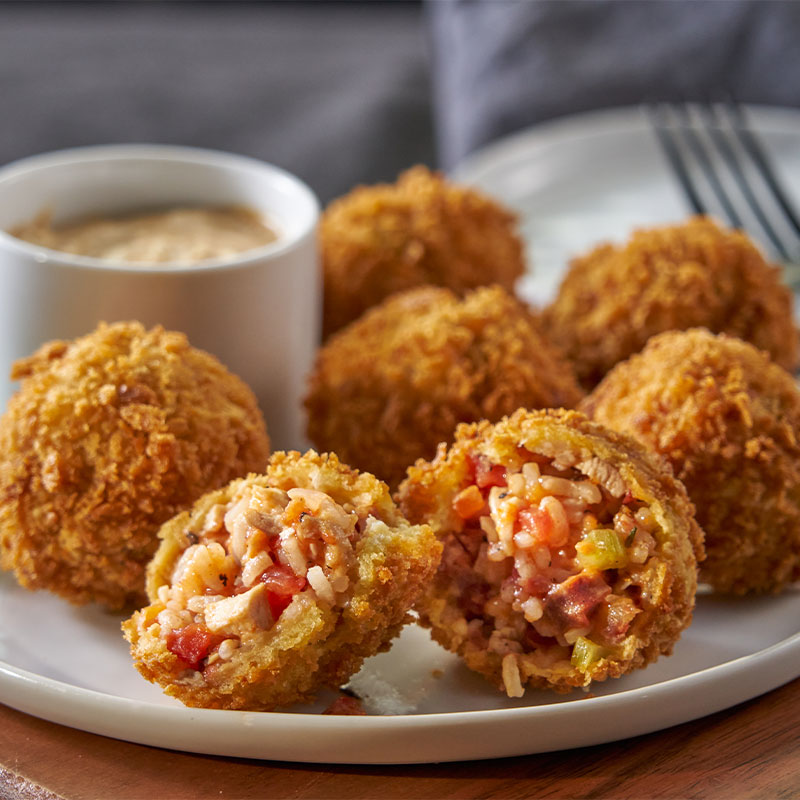 Jambalaya Arancini
This twist on a Cajun classic stars U.S.-grown white long grain rice.
Ingredients
¾ cup white long grain rice

¼ cup canola oil

4 ounces chicken thighs, ¼'

5 ounces smoked andouille sausage, ¼'

¼ cup yellow onion, ¼'

¼ cup green bell pepper, ¼'

2 tablespoons celery, peeled, ¼'

1 tablespoon garlic, minced

1 tablespoon jalapeno, minced

2 teaspoons cajun seasoning blend

½ teaspoon thyme

1¼ cup chicken stock

14 ounces can diced tomato

2 teaspoons salt

1 teaspoon black pepper
Remoulade sauce

1 cup mayonnaise

2 tablespoons dill pickle relish

2 tablespoons capers

1 teaspoon lemon zest

1 tablespoon lemon juice

1 teaspoon worcestershire sauce

2 teaspoons cajun seasoning

½ teaspoon smoked paprika
Directions
For Arancini:

Pour canola oil into a medium sauce pot over high heat.

Add chicken and andouille to the pot and saute over high heat until browned. Remove from pot and set aside.

Add onions, bell peppers, and celery to the same pot and saute over medium heat until onions become translucent.

Add garlic, jalapeno, Cajun seasoning, thyme, cooked chicken thighs, and cooked andouille to the pot and continue to cook over medium heat for 30-45 seconds.

Add rice, chicken stock, and canned tomato to the pot and bring to a low simmer. Simmer over low heat for 20-30 minutes or until rice is tender.
Season with salt and pepper. Spread onto a sheet pan to cool in the refrigerator.
Pre-heat fryer to 350°F.

Scoop and roll the prepared jambalaya mix into 1.5-2 oz balls.

Roll each ball in flour, followed by egg, then breadcrumbs. Make sure that each jambalaya ball is fully breaded. Store in the refrigerator until ready to fry.

Fry arancinis at 350°F for 60-90 seconds or until golden brown.

Serve with a side of grilled lemon and remoulade sauce for dipping.
For the Remoulade sauce:

In a medium mixing bowl, fold all ingredients together until fully combined.

Store in the refrigerator covered until ready to use.