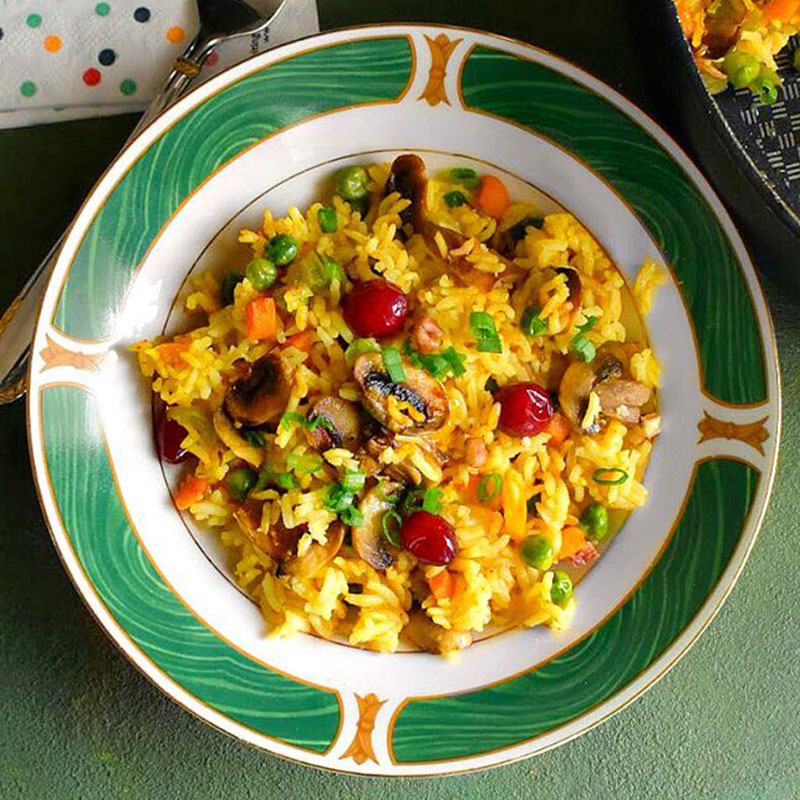 Easy One Pot Mushroom Pilaf
Delicious, flavorful and hearty one-pot recipe that's loaded with veggies and ready in 20 minutes. It's vegan and gluten free and can be stored in the fridge for up to 2-3 days. This recipe comes from Easy Cooking with Molly in partnership with USA Rice to celebrate American Heart Health Month.
Servings

4

Serving Size

1 cup

Prep Time

2 min

Cook Time

18 min

Total Time

20 min
Ingredients
Pilaf

1 cup U.S. white long grain rice

2 cups white mushrooms, sliced

½ cup frozen green peas, thawed

½ cup diced carrot

½ cup diced green pepper

½ cup diced multi-color sweet peppers

3 tablespoons olive oil

4 cups water

Pilaf Seasoning
1 teaspoon turmeric

2 bay leaves

¼ teaspoon cumin seeds

2 cloves

2 green cardamoms

¼ inch Cinnamon stick

5 black peppercorns

1 teaspoon red chili powder
Directions
Pilaf Seasoning:

Add all the pilaf seasoning ingredients in a grinder and pulse to form a fine powder.

Keep the powder aside. (you only need 1½ teaspoons of this powder and store rest).
Pilaf:
Heat olive oil in a non-stick pot. Add bay leaves and sauté. Add mushrooms and sauté for another 2 minutes till they get brown. Add all the rest of the vegetables and sauté for 2 minutes on medium heat.

Add 1½ teaspoons pilaf seasoning and sauté everything evenly.
Add rice and sauté for 2 minutes (cook rice slightly). Then add water and cover the pot with lid. Lower the heat and let this cook for 12 minutes (check in-between to make sure nothing burns as all stoves are different).

After the rice is cooked, turn off the heat. Sprinkle with some fresh cranberries, scallion and chopped pecans (optional). Serve hot.