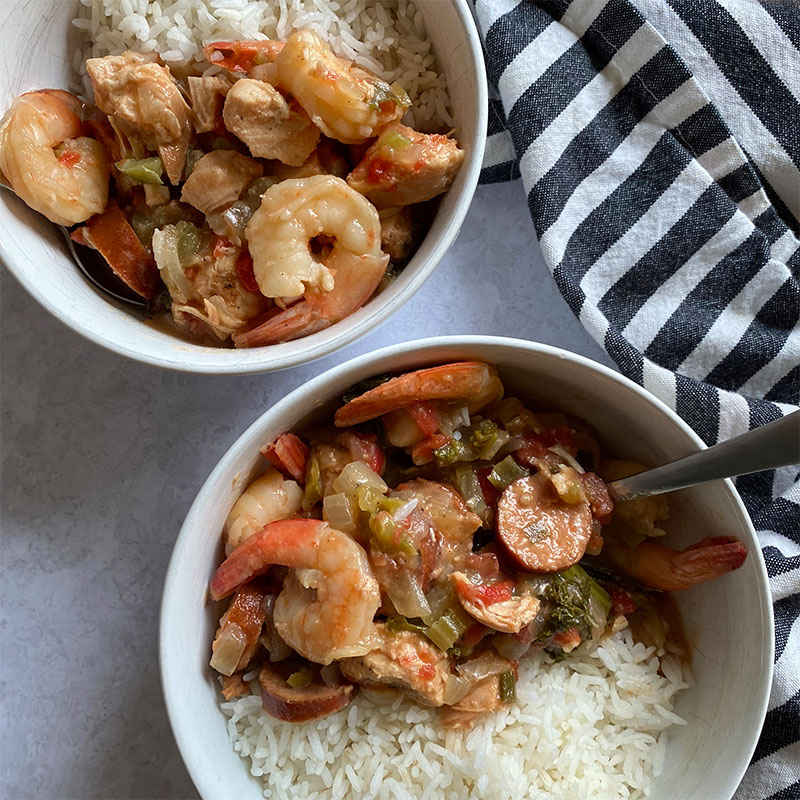 Shrimp Gumbo
This easy-prep slow cooker recipe is perfect for colder weather and delivers a filling and delicious meal! The classic Cajun dish blends shrimp, andouille, chicken, and vegetables with U.S.-grown long grain rice and was developed by our friends at the Seafood Nutrition Partnership.
Servings

4-6

Serving Size

1 bowl

Prep Time

20 min

Cook Time

6 hrs

Total Time

6 hrs 20 min
Ingredients
2 medium celery stalks, minced
3 cloves garlic, minced
½ cup of all-purpose flour
1 large onion chopped
1 large green bell pepper, chopped
2 teaspoons Cajun seasoning
2 cups reduced-sodium chicken broth
3 medium green onion stalks, sliced
2 boneless chicken breasts, cut into cubes
1 can diced tomatoes
12 oz andouille sausage, sliced
1 lb deveined shrimp
3 cups long grain rice
salt and pepper to taste.
Directions
Cook long grain rice according to package instructions and set aside.
Preheat oven to 400 degrees. Sprinkle the flour on a heavy sheet pan and bake for 15 minutes. Stir occasionally and cool to room temperature.
Cook sausage and chicken in a non-stick skillet for 3-4 minutes until lightly browned.
Place sausage, chicken, onion, bell pepper, celery, garlic, tomatoes, and seasoning into a slow cooker.
In a medium bowl, whisk together the broth and browned flour. Pour into slow cooker until fully blended.
Cover and cook on high for 6 hours or low for 8 hours.
Turn the slow cooker on warm and then place shrimp in a non-stick skillet. Cook for 3 minutes on each side and then place in crock pot.
Serve over cooked rice and garnish with green onions.
Optional: add your favorite bread or crackers for an added crunch.