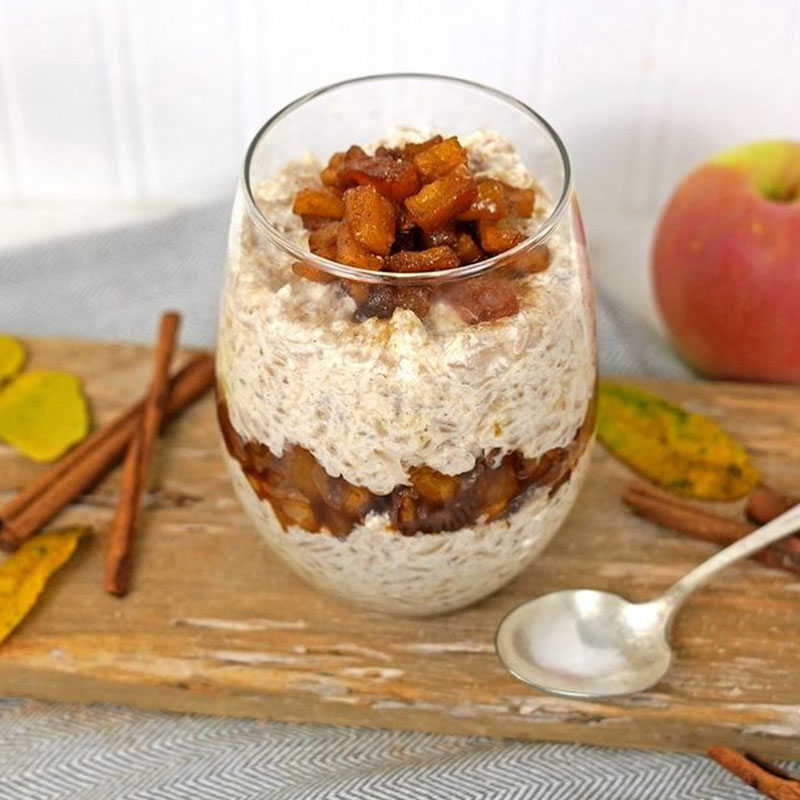 Rice Pudding with Bourbon Glazed Apples
Sweet, creamy, and well textured, this Rice Pudding with Bourbon Glazed Apples has it all! The seasonally inspired rice pudding brings together all the flavors of fall and stars U.S.-grown jasmine rice.

This recipe was developed by our friends at Thyme of Season and was a winner of the 2021 USA Rice and Feedfeed National Rice Month recipe contest.
Servings

4

Prep Time

15 min

Cook Time

30 min

Total Time

45 min
Ingredients
Rice Pudding

2 cups milk

1 cup heavy whipping cream

¾ cup jasmine rice

¼ cup condensed milk

¼ cup brown sugar

½ teaspoon vanilla extract

¼ teaspoon cinnamon
¼ teaspoon salt
Bourbon Glazed Apples

2 cups apples peeled and cubed

2 tablespoons brown sugar

1 tablespoon butter

1 tablespoon bourbon

¼ teaspoon cinnamon
Directions
Rice Pudding

Place milk, rice, brown sugar, vanilla extract, cinnamon and salt into a sauce pan and bring to a boil. Reduce to simmer and let simmer uncovered for about 30 minutes or until rice is soft. Stir occasionally.

Once cooked, remove from heat and let cool completely.

Place heavy cream into a bowl and whip with an electric mixer until whipped cream has formed.
Once the rice is completely cooled, mix in the whipped cream and condensed milk. You should have a creamy sweet consistency.
Bourbon Glazed Apples

Place brown sugar and butter into a sautee pan and cook on medium/high heat until sugar is melted.

Add apples and cook for 6-7 minutes or until apples become soft. All bourbon and cinnamon. Let cool.

Transfer rice pudding into serving dishes and layer or top with bourbon glazed apples.
Ready to serve. Can be refrigerated for 2-3 days.