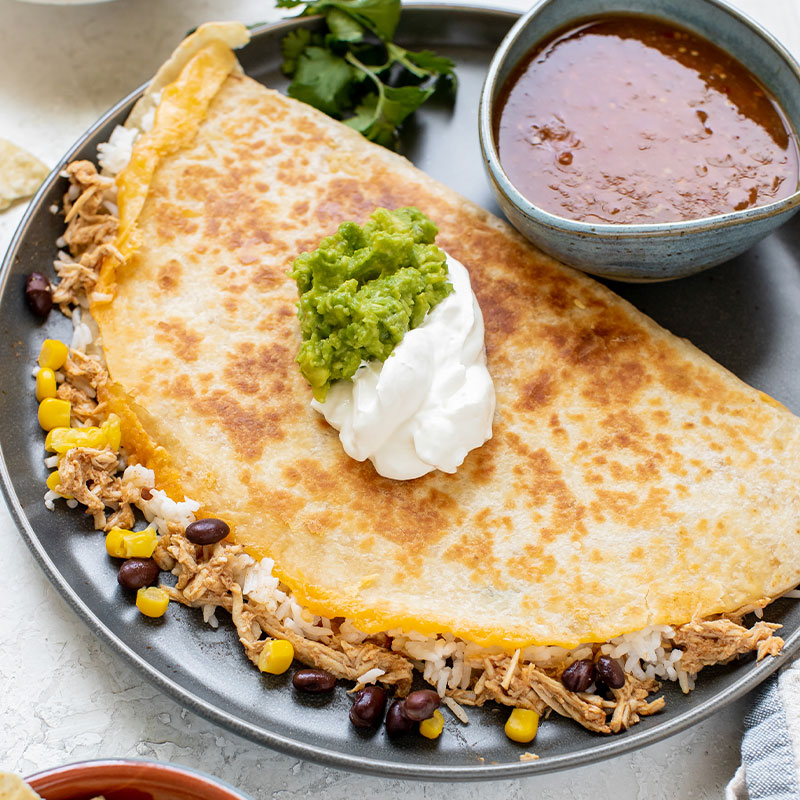 Chipotle Chicken and Rice Quesadillas
Who doesn't love a good quesadilla? Step up your game with our incredible Chipotle Chicken and Rice Quesadillas! This recipe brings together juicy shredded chipotle chicken, black beans, corns, and of course rice for a flavorful, nutrient dense, and well-textured meal that all will enjoy.

These quesadillas star U.S.-grown long grain rice and comes to us from our friend Tawnie of Kroll's Korner in partnership with USA Rice.
Servings

8

Serving Size

1 quesadilla

Prep Time

45 min

Cook Time

20 min

Total Time

1 hr 5 min
Ingredients
1 cup long grain white rice, cooked
3 boneless, skinless chicken breasts
Chicken seasoning

2 cups chicken stock

1 tablespoon chipotle chili powder

½ tablespoon smoked paprika

1 teaspoon cumin

1 teaspoon onion powder

1 teaspoon ancho chili powder

2 tablespoons adobo sauce and 1 adobo pepper

5 cloves garlic, minced

1 tablespoon kosher salt
¼ teaspoon black pepper
Quesadillas

8, burrito size flour tortillas (10-inch)

2-3 cups shredded cheddar cheese

½ cup black beans, drained and rinsed

½ cup yellow corn, drained and rinsed

toppings: avocado, guacamole, salsa, hot sauce, sour cream
Directions
Preheat the oven to 350°F. Place the chicken breasts in a Dutch oven and pour broth in. Add in all of the seasonings and gently stir. Bake in the oven for 30-40 minutes or until the chicken reaches an internal temperature of 165°F. Shred chicken and keep in the juices.

Cook the U.S.-grown long grain rice: Follow the package directions or use this easy stovetop method: Combine 1 cup long grain rice with 2 cups water and a dash of salt in a small saucepan. Heat to boiling; stir once or twice. Reduce the heat; cover and simmer for 15 minutes or until most of the water is absorbed. Allow the pot to sit, undisturbed, for another 10 minutes. Fluff with fork and set aside.

Assemble the quesadillas: Divide shredded cheese on one half of a flour tortillas. Add the white rice on top, shredded chicken, corn, black beans and an additional sprinkle of cheese. Fold the tortillas half over.

Melt ½ tablespoon butter in a skillet over medium-high heat. Carefully transfer the quesadillas to the hot pan and cook until golden brown underneath, about 3 minutes. Flip and cook on the second side until golden.

Remove from the pan. Slice and enjoy with your favorite quesadilla toppings.
Recipe Notes
Use different cheese. For a more traditional flavor add Mexican cheese like Oaxaca or Chihuahua.

Once the chicken is cooked, use my kitchen aid mixer to shred the chicken. It's a quick alternative to pulling it apart, and you don't have to let the chicken cool off before shredding.

Tortillas can burn easily, so make sure you keep the temperature on medium heat when frying up the quesadilla.

Filling the quesadilla: The best way to fill the tortilla is to spread the chicken and cheese mixtures over half of a single tortilla. Once that is done, then top off the filling with more cheese and fold the other half of the tortilla over the top. Also, leave just a little boarder around the edges so that the filling doesn't ooze out.

Use a pizza wheel to cut the quesadilla. Just slide it onto a cutting board and cut away!

This recipe makes a lot of leftover chicken. It can be used in a variety of other recipes like tacos, burritos, chicken and rice burrito bowls, taco salad and chicken tortilla soup.
Nutrition Facts
Serving

1 quesadilla

Calories

462kcal

Total Fat

16g

Saturated Fat

7g

Trans Fat

1g

Cholesterol

84mg

Sodium

850mg

Carbohydrates

42g

Dietary Fiber

4g