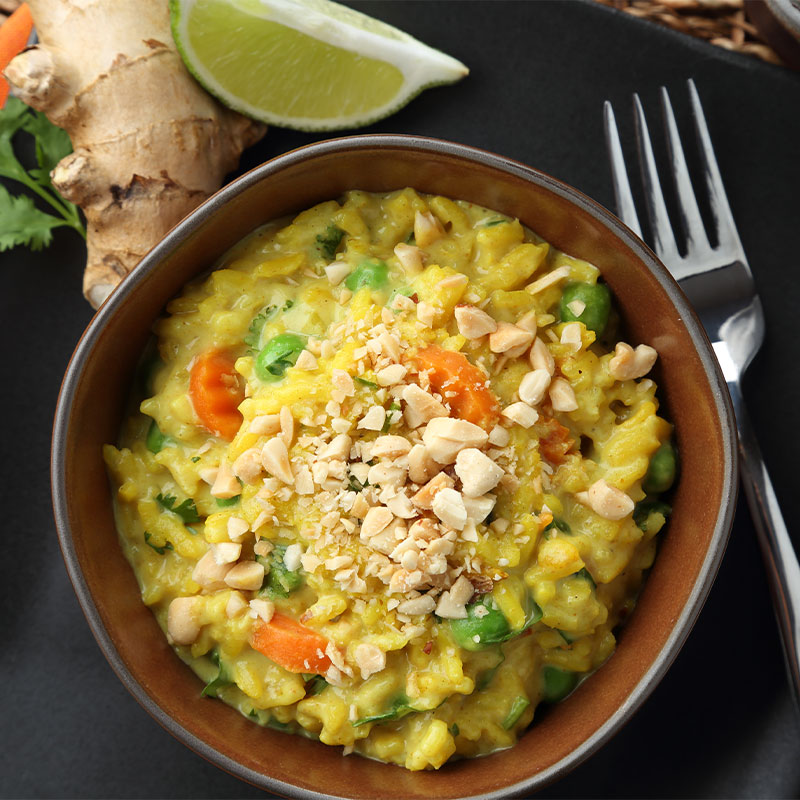 Coconut Rice with Peanuts
Our Coconut Rice with Peanuts is sure to be a hit with everyone at the table! It brings together a combination of Asian-inspired flavors and stars U.S.-grown long grain rice.

This dish is part of the "Meatless Mains in Minutes" recipe series, a collection of hearty vegetarian concepts that take no more than 30 minutes of total cook time.
Servings

5

Serving Size

1 cup

Prep Time

15 min

Cook Time

15 min

Total Time

30 min
Ingredients
1 cup long grain white rice, uncooked

1¾ cups water

1 cup frozen sliced carrots

1 tablespoon butter or ghee

2 teaspoons curry powder

1 teaspoon ground turmeric, optional

¾ teaspoon salt or to taste

pinch of dried pepper flakes

1 cup frozen peas, thawed

1 (13.5-ounce) can lite or regular coconut milk

½ cup chopped fresh cilantro or chopped green onion (green and white parts total)

1 tablespoon grated gingerroot

2 teaspoons sugar

2.5 ounces (⅔ cup) unsalted peanuts, finely chopped

1 lime, cut into 6 wedges

Directions
Combine the rice, water, carrots, butter, curry powder, turmeric, salt, and pepper flakes in a large saucepan. Bring to a boil, reduce heat, stir, cover and simmer 15 minutes or until rice is tender

Remove from heat, stir in the peas, coconut milk, cilantro, ginger, and sugar. Sprinkle chopped nuts evenly over all and serve with lime wedges.

Makes 5 cups total.
Recipe Notes
To thaw frozen peas, place in colander and run under cold water 15-20 seconds and drain well OR when prepping the recipe, simply place peas on a plate in a single layer. They will thaw while the rice mixture cooks.
Nutrition Facts
Serving

1 cup

Calories

400

Total Fat

15g

Saturated Fat

6g

Trans Fat

0g

Cholesterol

5mg

Sodium

730mg

Carbohydrates

57g

Dietary Fiber

7g

Sugar

6g

Protein

10g