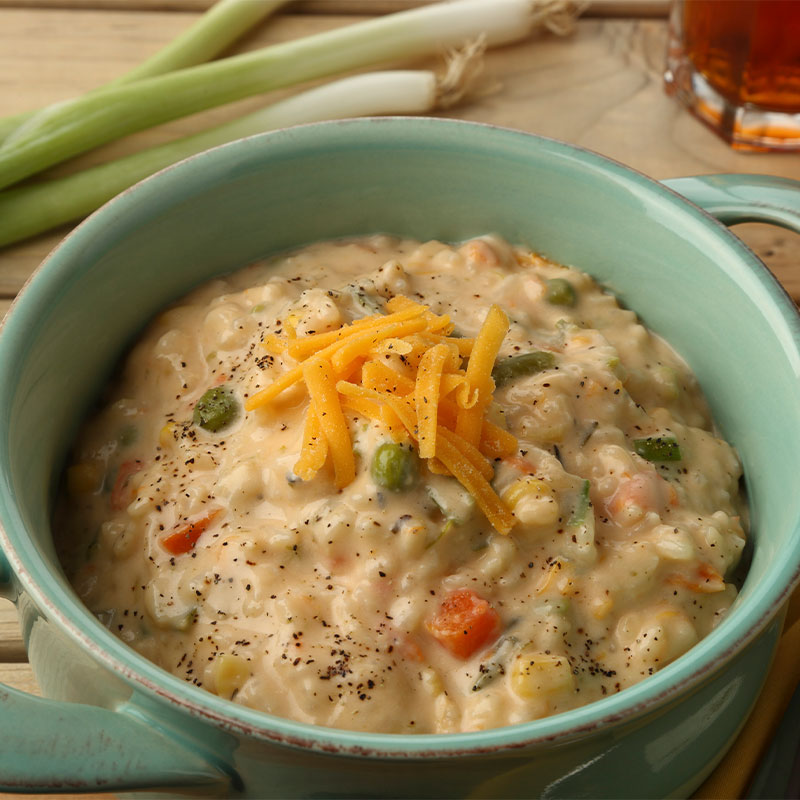 Creamy Country Vegetable Rice
Make life easy with our "No-Measure" Creamy Country Vegetable Rice recipe-all you need to measure is a cup of rice!
Servings

6

Serving Size

1 cup

Prep Time

8 min

Cook Time

28 min

Total Time

36 min
Ingredients
1 cup long grain white rice, uncooked

1 can (14.5-oz) of chicken broth

1 can (12-oz) of evaporated milk

1 package (10-12-oz) of frozen mixed vegetables

dried thyme

1 package (8-oz) of shredded sharp cheddar cheese

½ package (8-oz) of cream cheese, cut into small pieces

2 green onions, trimmed and finely chopped

salt (to taste)

pepper (to taste)
Directions
Combine the broth, milk, and frozen vegetables in a large saucepan. Bring to boil over high heat. Add the rice and sprinkle lightly with thyme. Return to a boil, reduce heat to low, cover and cook 15 to 18 minutes or until rice is tender. Remove from heat.

Stir in the cream cheese, cheddar cheese, and onions. Gently stir until cheese has melted and well blended. Season with salt and pepper to taste.

Makes 6 cups. Serves 6; 1 cup per serving
Recipe Notes
May add a 5-oz. package of diced ham with the cream cheese, if desired.
Nutrition Facts
Serving

1 cup

Calories

410

Total Fat

17g

Saturated Fat

10g

Trans Fat

0g

Cholesterol

60mg

Sodium

630mg

Carbohydrates

43g

Dietary Fiber

2g

Sugar

9g

Protein

20g