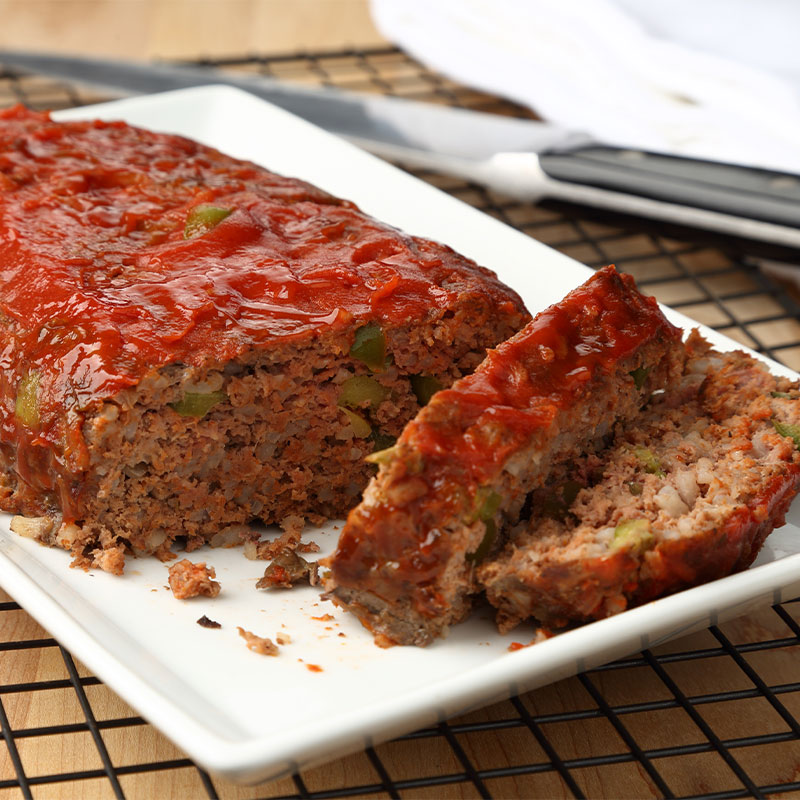 Homestyle Meatloaf
This classic meatloaf dish featuring U.S.-grown long grain rice will be a hit with everyone at the table!
Servings

24

Serving Size

255g

Total Time

1 hr
Ingredients
24 ounces tomato sauce, divided

¾ cup ketchup

6 pound lean ground beef

6 cups cooked us white long grain rice

6 cups green bell pepper, chopped

2 cups onion, finely chopped

6 eggs

1 tablespoon dried oregano

1½ tablespoons salt

2 teaspoon black pepper

2 tablespoon worcestershire sauce
Directions
Preheat oven to 350 degrees F.

Combine ⅓ cup of the tomato sauce with the ketchup in a bowl and set aside.

Combine the remaining ingredients in a large bowl. Mix until just blended. Do not overmix.

Line 2 rimmed baking sheets with heavy duty foil and coat with cooking spray.

Place 3 mounds of beef mixture on each sheet pan and shape each mound into a loaf (about 8 x4 x 11/2 inches)*. Bake 25 minutes, alternate oven racks and rotate baking sheets. Bake 22-25 minutes or internal temperature reaches 160 degrees F.

Remove meatloaves from oven, brush the ketchup mixture evenly over top and sides of each loaf and let stand 10 minutes before slicing. Yields six loaves.
Recipe Notes
To make sure the loaves are uniform in size, place equal amounts of meat mixture in a 9 x 5-inch loaf pan coated with cooking spray. Press down gently to take the shape of the loaf pan, invert onto the baking sheet. Repeat with remaining meat mixture until 6 loaves are created. Shape each loaf to measure about 8 x 4 x 11/2 inches.
Nutrition Facts
Serving

255g

Calories

270

Total Fat

9g

Saturated Fat

3.5g

Trans Fat

0g

Cholesterol

120mg

Sodium

760mg

Carbohydrates

18g

Dietary Fiber

1g

Sugar

4g

Protein

27g