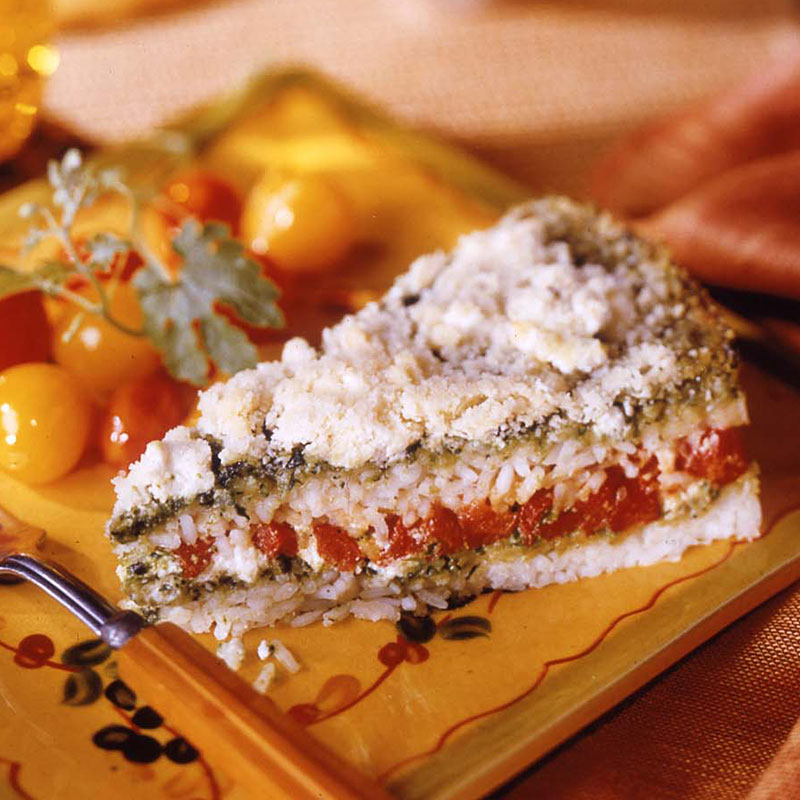 Layered Rice Pesto and Pepper Bake
"Rice to the Rescue!" Recipe Contest Grand Prize Winner - Manika Misra
Ingredients
3 cups cooked rice

1 ¾ cups Parmesan cheese, shredded, divided

salt and ground pepper to taste

nonstick vegetable spray

½ cup prepared basil pesto sauce; divided

4 ounces goat cheese, crumbled, divided

10 ounces roasted red peppers, drained, patted dry and chopped
Directions
Preheat oven to 400 degrees. Spray a 7-inch diameter soufflé dish or spring form pan with nonstick vegetable spray.

Combine rice, 1 ½ cups Parmesan cheese, salt and pepper in a medium bowl.

Place ½ of rice mixture in bottom of prepared dish; pat down well. Spread ½ of pesto evenly over rice and sprinkle with ½ of goat cheese. Layer ½ of red peppers over goat cheese. Repeat above layers.

Sprinkle remaining ¼ cup Parmesan cheese over top. Bake 12 to 15 minutes in preheated oven. Cut into wedges to serve.
Nutrition Facts
Calories

433

Total Fat

25g

Cholesterol

52mg

Sodium

865mg

Carbohydrates

29g

Protein

21g