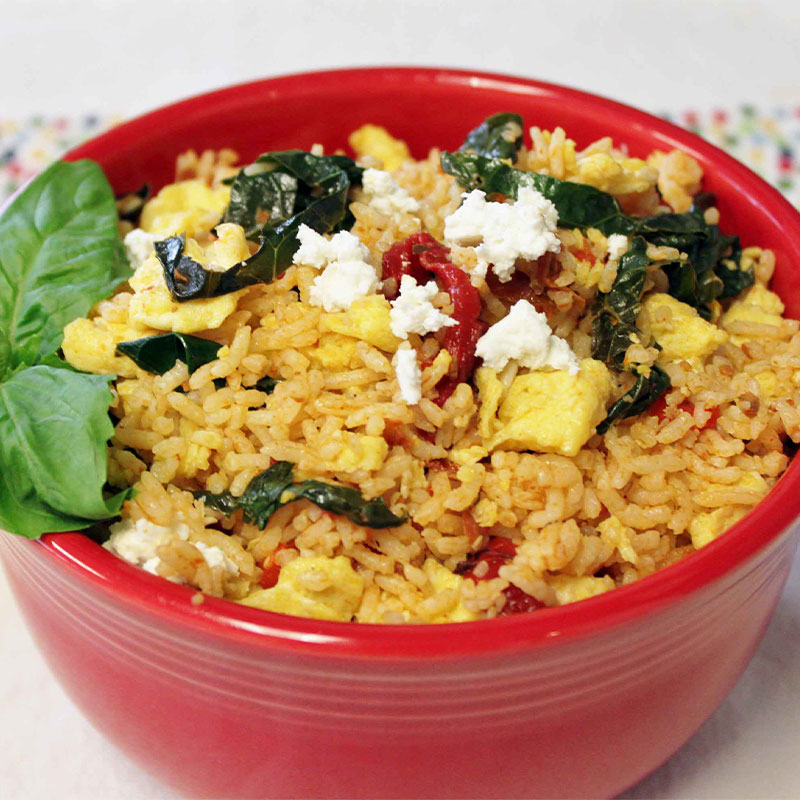 Mediterranean Breakfast Kale Rice Bowl
Submitted by Deborah Biggs of Omaha, NE.
Ingredients
3 cups cooked basmati rice

¼ cup jarred, sun-dried tomato pesto sauce

1 teaspoon oil

2 cups kale leaves, thinly sliced

½ cup jarred, roasted red bell pepper strips

8 large eggs, well beaten

½ cup fresh basil, thinly sliced + more for garnish

2 ounce soft goat cheese, crumbled
Directions
Gently toss together hot rice and pesto sauce until well blended; keep warm.

In a large (13-to-15-inch) non-stick skillet, place 1 teaspoon cooking oil, kale and red bell pepper strips. Stir and cook over medium heat for 2 to 3 minutes or until kale is slightly wilted and peppers are warmed through. Remove from heat to a plate and set aside.

In the same skillet, melt 2 teaspoons butter over medium-low heat. Add the eggs and ⅛ teaspoon salt and cook for 3 to 5 minutes, stirring frequently, until eggs are scrambled. Return the cooked kale and peppers to the skillet with eggs and gently stir until heated through.

Combine rice mixture, egg mixture and sliced basil. Divide mixture into 4 serving bowls. Top each with an equal amount of crumbled goat cheese. Garnish with basil sprigs, if desired.