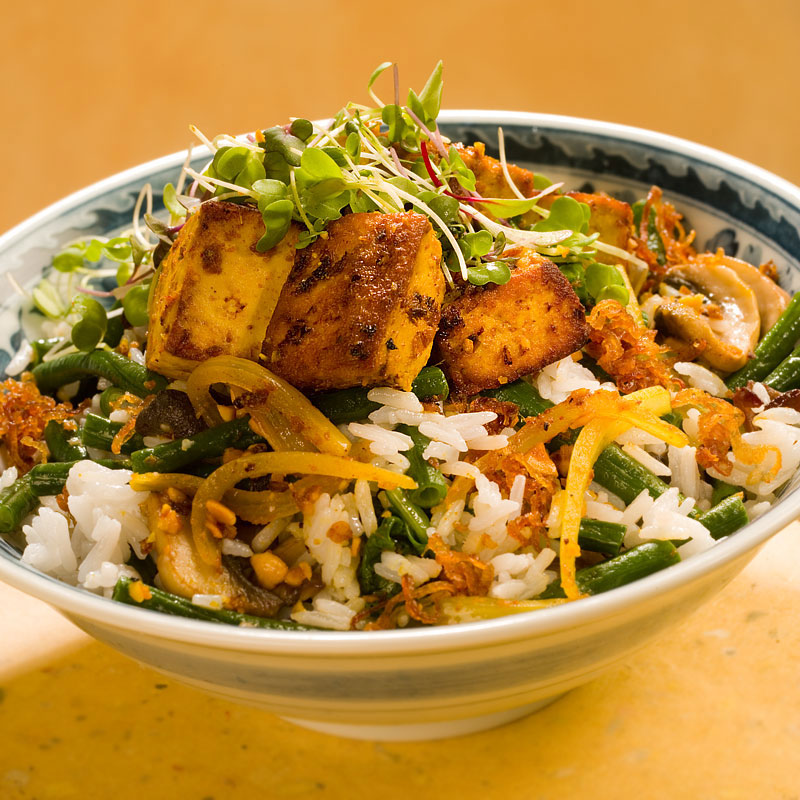 Lemongrass Tofu Rice Bowl
Use healthy rice bowls as a way to boost profits and explore your culinary creativity. This bowl employs classic Southeast flavors and soybean tofu. Feel free to substitute other vegan proteins, like seitan or quorn, and any aromatic U.S. rice.
Prep Time

1 hr

Cook Time

10 min

Total Time

1 hr 10 min
Ingredients
Tofu Marinade:

6 lemongrass stalks

2 tablespoons ginger

1 tablespoon Chinese chili paste

3 tablespoons soy sauce

2 teaspoons ground turmeric

1 tablespoon sugar

1 teaspoon kosher salt

2 pounds firm tofu
Vegetables & Rice:

⅓ cup soy oil, divided

1 cup Thai basil leaves

2 yellow onion

3 tablespoons garlic, minced, divided

¼ cup peanuts

¼ cup vegetable oil

2 cups wood ear mushrooms

2 cups cremini mushrooms

⅓ cup shallots, thinly sliced

1 quart Chinese long beans

3 quarts U.S. jasmine rice, cooked

2 cups micro-greens

½ cup lemon grass vinaigrette
Directions
Nutrition Facts
Pound the lemongrass and ginger in a mortar and pestle until pulverized, or smash with an iron skillet and chop. Mix with the chili paste, soy sauce, turmeric, sugar and salt. Toss gently with the tofu until it is well coated; the mixture will be dry. Marinate at least 30 minutes.

Heat ⅓ of the soy oil in a sauce pan over low heat. Add the onions and 1 tablespoon garlic; season with salt. Cover and cook for 1 minute, add a little water and continue to cook covered until the onions are translucent and soft (about 8 minutes); set aside.

Heat the remaining soy oil in a large non-stick skillet over medium-high heat. Add the marinated tofu (the pan must be large enough to add all of the tofu in a single layer). Brown the tofu, shaking occasionally to insure that it is not sticking; turn as needed with chopstick or a tongs. When the tofu is brown, add the reserved onions; toss gently to coat, adjust seasoning with salt and sugar. Add the peanuts and basil leaves; remove from heat.

Heat the vegetable oil in a large skillet. Add the mushrooms and cook until tender; add the remaining garlic, shallots, and long beans and cook until hot and aromatic. Add the cooked rice and toss to combine.

Place about 1 cup rice mixture in a deep bowl. Place a portion of tofu on top. Toss a portion of micro-greens with some of the vinaigrette and perch on top of tofu. Garnish with fried shallots and drizzle some more vinaigrette over all.