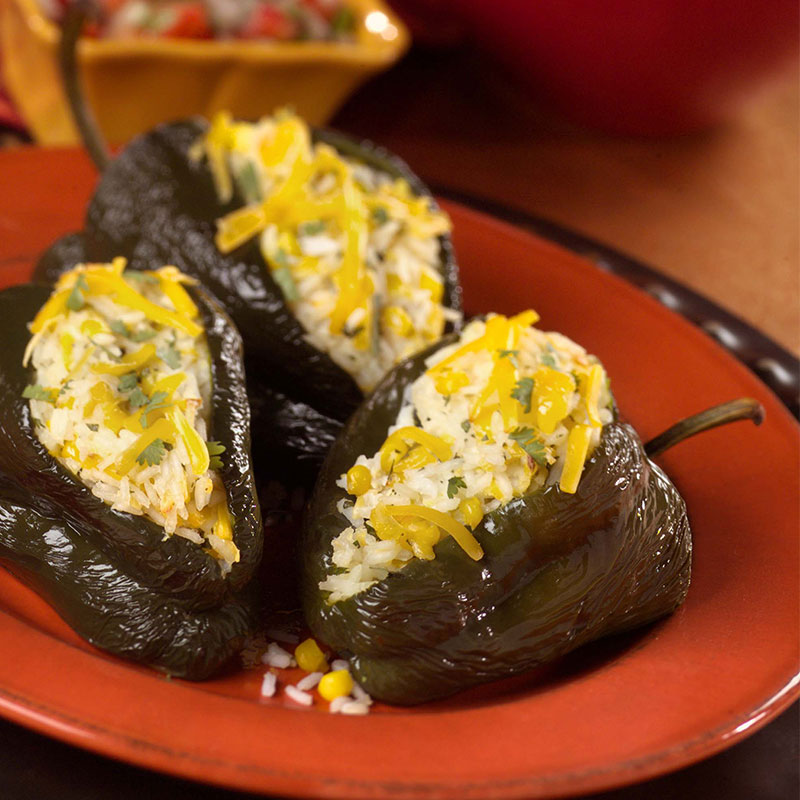 Rio Bravo Rice-Stuffed Poblanos
"Rice to the Rescue!" Recipe Contest Winner - Edwina Gadsby
Ingredients
6 large Poblano peppers

cooking oil

3 cups cooked long grain rice

⅔ cup sour cream

1 ½ cups smoked Gouda or cheddar cheese, shredded, divided

1 cup frozen corn kernels, thawed

⅓ cup cilantro leaves plus additional for garnish, chopped

salt and pepper to taste
Directions
Preheat oven to 400 degrees.

Slit each pepper lengthwise and microwave on HIGH for 3 -5 minutes, depending on the size, to soften. Carefully remove loose seeds and veins, keeping stem intact. Rub pepper generously with oil and place on baking sheet.

Combine rice, sour cream, 1 cup cheese, corn and cilantro in a medium bowl. Season with salt and pepper. Divide mixture to stuff each pepper; sprinkle with remaining cheese.

Bake in oven 20 to 25 minutes, until peppers are crisp-tender and filling is heated through. Garnish with cilantro.
Nutrition Facts
Calories

307

Total Fat

14g

Cholesterol

42mg

Sodium

262mg

Carbohydrates

35g

Dietary Fiber

2g

Protein

12g