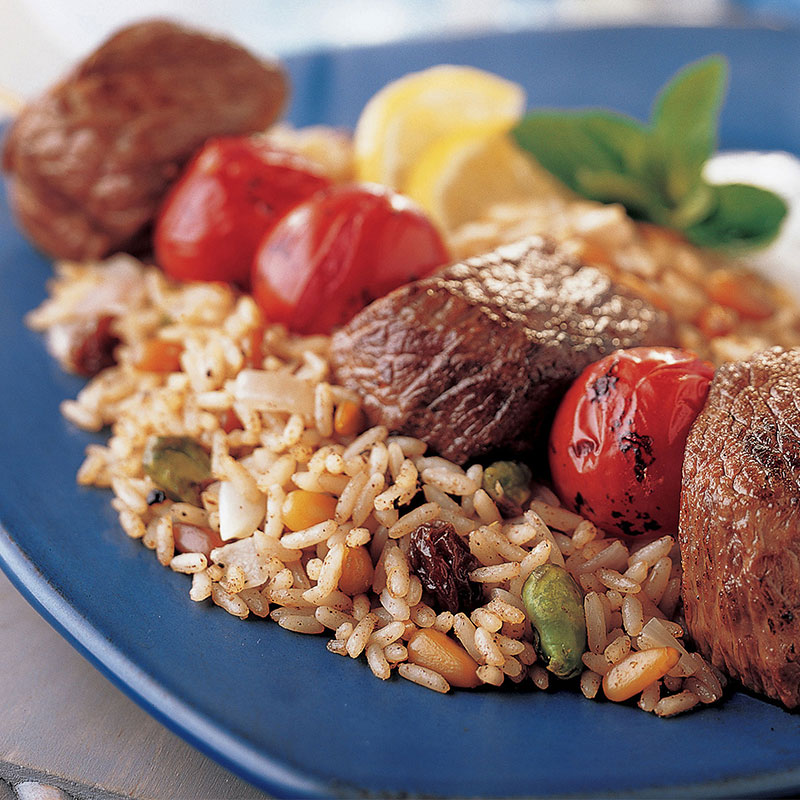 Moroccan Lamb and Rice
Lamb kabobs are served with gluten-free rich rice full of onion, pine nuts, white rice, lemon, cinnamon, cumin, allspice, clove coriander, ginger, pistachios and raisins and accompanied by yogurt, tomatoes and mint.
Serving Size

½ cup

Prep Time

45 min

Cook Time

30 min

Total Time

1 hr 15 min
Ingredients
3 tablespoons olive oil

3 cups red onion

1 cup pine nuts

1 tablespoon olive oil

3 cups long grain or parboiled rice

3 cups water

3 cups chicken stock

2 tablespoons fresh lemon zest

2 teaspoons salt

2 teaspoons black pepper

1 teaspoon cinnamon and cumin

¼ teaspoon allspice, clove, coriander and ginger

1 cup toasted pistachios

½ cup dark seedless raisins

2 ½ pounds lamb chunks

36 whole cherry tomatoes

1 ½ cups plain yogurt

3 tablespoons fresh mint

2 teaspoons salt

1 teaspoon black pepper
Directions
In large skillet heat oil over medium high heat; add onion and sauté 1 minute. Add pine nuts and continue cooking until onion softens and nuts are browned.

Add oil and rice and continue cooking 5 minutes until rice is transparent. Add boiling water and stock; bring to a boil, reduce heat, cover and simmer 18-20 minutes, or until rice is tender and liquid is absorbed. Remove from heat and keep warm.

Stir lemon zest, salt, pepper and remaining spices into rice mixture; mix well.

Add pistachios and raisins and mix. Keep warm and hold until ready to use as directed.

To serve: Thread grilled lamb chunks onto soaked bamboo skewers with tomatoes. Place ½ cup rice mixture on plate and top with skewer of lamb and rice. Dollop with 2 tablespoons yogurt and a sprinkling of mint, salt and pepper.