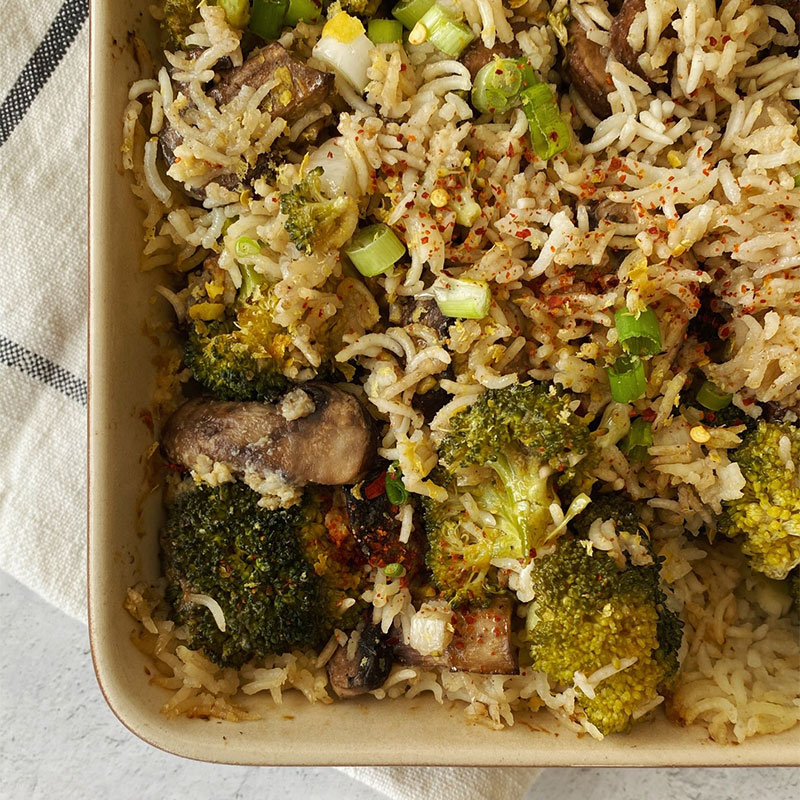 One Dish Broccoli & Mushroom Bake
This one dish broccoli & mushroom bake is easy to make, packed with veggies, and stars U.S.-grown basmati rice. Recipe comes to us from our friend Gal of @somethingnutritious.
Servings

6

Prep Time

15 min

Cook Time

50 min

Total Time

1 hr 5 min
Ingredients
Rice layer

1 cup basmati rice

1 tablespoon olive oil
¼ teaspoon salt
Veggie layer

8 oz fresh sliced mushrooms

2 cups chopped broccoli florets

½ large onion, chopped

2 + ½ cups vegetable broth

3 cloves of garlic, crushed

3 tablespoons nutritional yeast

2 tablespoons vegan butter, melted

1 teaspoon salt

½ teaspoon crushed black pepper

sliced scallions, to top

crushed red pepper, to top
Directions
Preheat your oven to 350 F

In a large casserole dish, at least 9 x 13″ big, layer your rice and mix it with the 1 tbsp of olive oil and salt

In a medium bowl, mix together the sliced mushrooms, broccoli florets, onion, salt, pepper, garlic, nutritional yeast and butter.

Layer the veggie mixture over the rice and flatten into the baking dish.

Pour the vegetable broth over the dish, and cover with tinfoil.

Bake covered for 40 minutes covered. Remove from oven, give it a mix and remove the foil. Continue baking for an additional 10-15 minutes uncovered, until the rice is fluffy and all liquid is absorbed.

Let rest for 10 minutes, fluff together and top with scallions or red pepper flakes. Serve fresh!