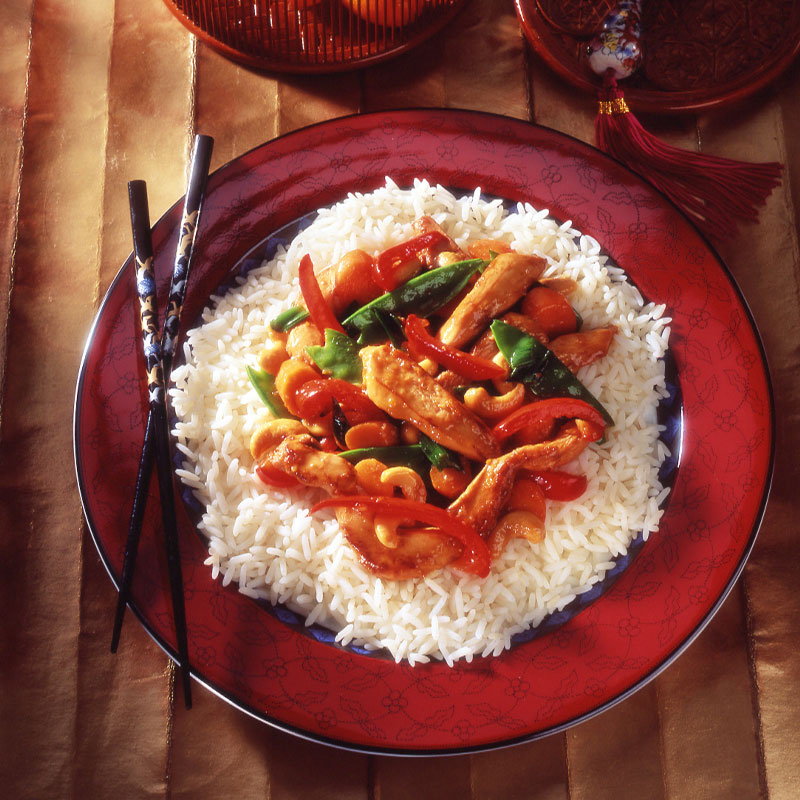 Ingredients
½ cup orange juice

2 tablespoons sesame oil, divided

2 tablespoons soy sauce

1 tablespoon dry sherry

2 teaspoons fresh ginger, grated

1 teaspoon orange peel, grated

1 clove garlic, minced

1½ pounds boneless, skinless chicken breast, cut into strips

3 cups mixed fresh vegetables, (bell peppers, snow peas, carrots, green onions, mushrooms, onions)

1 tablespoon cornstarch

½ cup unsalted cashew bits or halves

3 cups hot cooked rice
Directions
Combine orange juice, 1 tablespoon oil, soy sauce, garlic, sherry, ginger, orange peel and garlic in large glass bowl. Add chicken; marinate in refrigerator 1 hour. Remove chicken and reserve marinade.

Heat remaining 1 tablespoon oil in large skillet or wok over medium-high heat. Add chicken; stir-fry 3 minutes or until chicken is light browned. Add vegetables; stir-fry 3 to 5 minutes or until vegetables are crisp-tender.

Combine cornstarch and marinade; add to skillet and stir until sauce boils and thickens. Stir in cashews; cook 1 minute more. Serve over hot rice.
Nutrition Facts
Calories

590

Total Fat

20g

Cholesterol

109mg

Sodium

822mg

Carbohydrates

53g

Dietary Fiber

4g

Protein

48g