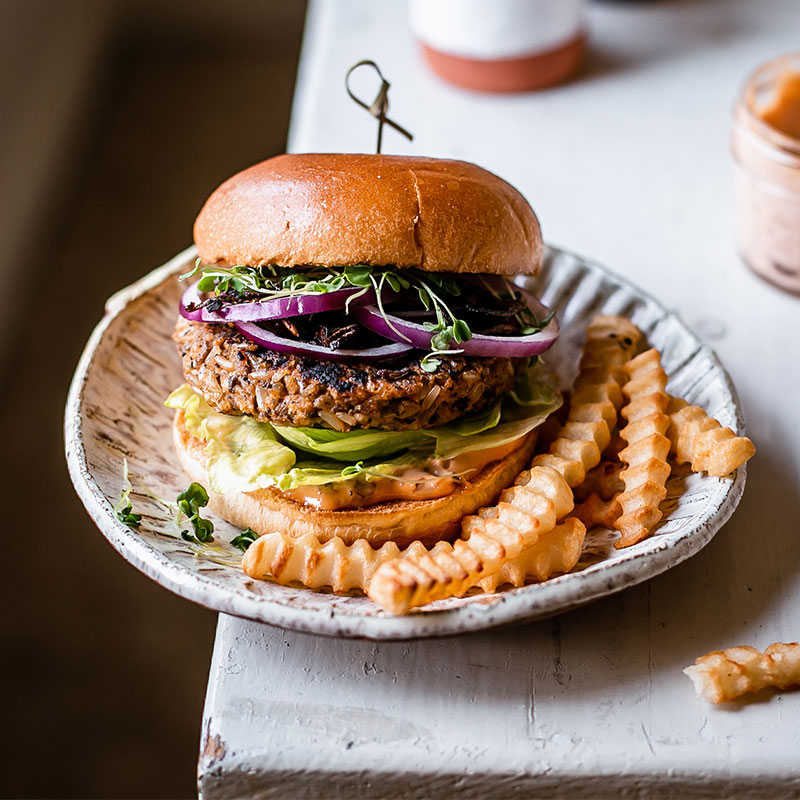 Rice Burgers with Sweet Potato and Mushroom
This is not your mother's veggie burger! It's in a class all its own, highlighting brown rice in a unique way that's guaranteed to satisfy even the emptiest stomach. They're great for Sunday night meal prep (make 4 and use throughout the week!) or to freeze for a rainy Monday.

This recipe was created by our friend Ashley Cuoco in partnership with USA Rice and The FeedFeed.
Servings

4

Serving Size

1 burger

Prep Time

15 min

Cook Time

60 min

Total Time

1 hr 15 min
Ingredients
Crispy Shallots

vegetable oil, for frying

large shallot, thinly sliced
kosher salt
Spicy Mayo

½ cup mayonnaise

1 can chipotle pepper, chopped
1 tablespoon adobo sauce (from can)
Rice Burgers

medium sweet potato

to taste kosher salt & freshly ground pepper

8 large baby portobello mushrooms

3 tablespoons extra-virgin olive oil, divided

½ yellow onion, finely chopped

1-2 teaspoons light soy sauce

1½ cups brown rice

½ cup + 2 tablespoons seasoned panko breadcrumbs

1 teaspoon apple cider vinegar

4 brioche buns, split

iceberg lettuce, thinly sliced

for serving red onion, sliced

for serving arugula microgreens
Directions
To make crispy shallots: heat about ½ of vegetable oil in a skillet or small saucepan over medium heat. Use a thermometer to heat to 275F. Add shallots and give them a stir to break apart the rings. Fry until crispy and deep golden-brown, about 5 minutes, stirring occasionally for even coloring. Remove with a slotted spoon and place on a paper towel lined plate to cool.

To make spicy mayo: in a small bowl, stir together mayonnaise, chipotle and adobo sauce. Chill until ready to use.

Preheat oven to 350F. Use a fork to pierce the sweet potato a few times to vent. Place potato on a baking sheet or directly on the oven rack. Roast until fork-tender, about 40 minutes. When cool enough to handle, peel and discard skin. Use a fork to mash and let cool completely.

Add mushrooms, including stems, to the bowl of a food processor. Pulse a few times, until roughly chopped (some bigger pieces are okay!)

Heat a cast iron skillet over medium heat. When hot, add 1 tablespoon olive oil and onion. Stir and cook until softened and fragrant, about 3 minutes. Add 1 teaspoon soy sauce and cook 1 minute more. Add mushroom and stir; cook another 3 minutes. Finally, stir in brown rice and the remaining teaspoon soy sauce. Season with a few good cracks of pepper. Transfer to a large bowl to cool. Wipe down skillet while it's still warm.

Into rice mixture, gently fold in panko, apple cider vinegar and ½ cup mashed sweet potato. Use your hands to bring it all together. If it is too loose and crumbly, add in another ½ cup sweet potato. When it nicely bound together, use a heaping ½ cup measuring cup to portion out each burger. Shape into 4 patties about 4" in diameter and ½" thick.