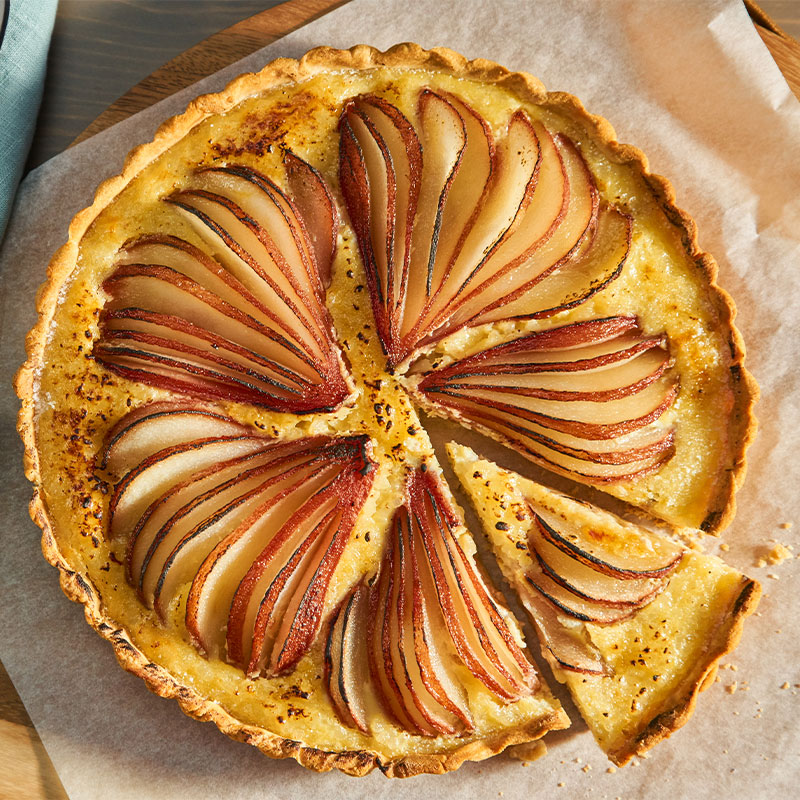 Ingredients
1 sheet prepared refrigerated pie crust

2 cups dry red wine

1 teaspoon ground cinnamon

2 large pears, peeled, halved and cored

2 cups cooked rice

2 cups half and half

½ cup plus 1 tablespoon sugar, divided

2 tablespoons butter

¼ teaspoon salt

2 eggs, beaten

1 teaspoon vanilla extract
Directions
Cook rice and set aside.

Place pie crust in a 10-inch tart pan. Bake at 450˚ for 8 to 10 minutes or until lightly browned; set aside. Reduce oven temperature to 350˚.

Place wine and cinnamon in 10-inch skillet. Bring to a boil over high heat; add pears. Reduce heat to low; cover and poach 10 minutes. Turn pears; poach 5 to 10 minutes more or until tender. Remove from wine; set aside.

Combine rice, Half & Half, ½ cup sugar, butter and salt in 3-qt saucepan. Cook over medium heat 12 to 15 minutes or until slightly thickened, stirring occasionally.

Gradually stir one-fourth of rice mixture into eggs; return egg mixture to saucepan, stirring constantly. Cook 1 to 2 minutes more. Remove from heat; stir in vanilla. Pour rice mixture into baked crust.

Place pears, cut sides down, on cutting board. Cut thin lengthwise slits into each pear, one-third down from stem end. Fan pears over rice mixture. Bake 30 minutes or until rice mixture is set.

Remove from oven; sprinkle with remaining 1 tablespoon sugar. Broil tart about 4 to 5 inches from heat source 1 to 2 minutes or until top is browned. Cool before serving.
Nutrition Facts
Calories

445

Total Fat

20g

Cholesterol

#mg

Sodium

398mg

Carbohydrates

50g

Dietary Fiber

2g

Protein

7g