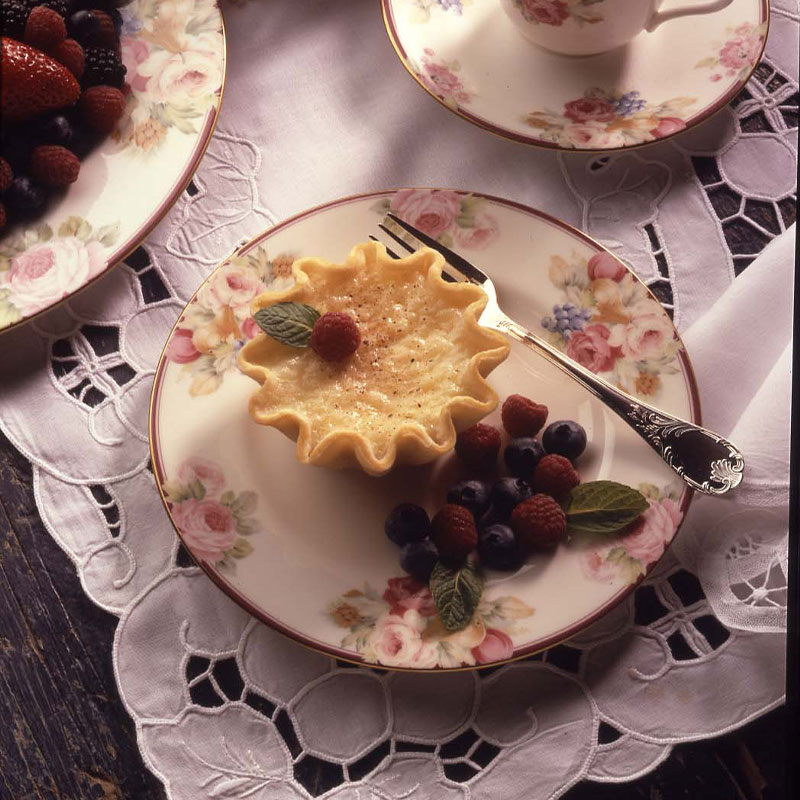 Ingredients
1 cup cooked rice

1 cup low-fat milk

⅓ cup sugar

¼ cup seedless raisins

⅛ teaspoon salt

2 eggs, beaten

¾ cup heavy cream

½ teaspoon vanilla extract

¼ teaspoon almond extract

6 frozen tartlet pastry shells, partially baked and cooled

⅛ teaspoon ground nutmeg for garnish

fresh berries (blueberry, raspberry, blackberry, strawberry), for garnish

fresh mint, for garnish
Directions
Combine rice, milk, sugar, raisins and salt in medium saucepan. Cook over medium-low heat 30 to 35 minutes or until thick and creamy, stirring frequently.


Remove from heat; add one-fourth rice mixture to eggs. Return egg mixture to saucepan; stir in cream and extracts. Spoon equally into pastry shells; sprinkle with nutmeg.


Place tarts on baking sheet. Bake at 350 degrees 20 to 30 minutes or until pudding is set. Cool on wire rack 1 hour. Use knife to loosen pastries from aluminum container; unmold.


Garnish with berries and mint. Serve at room temperature. Refrigerate remaining tarts.
Nutrition Facts
Calories

353

Total Fat

20g

Cholesterol

118mg

Sodium

214mg

Carbohydrates

37g

Dietary Fiber

1g

Protein

7g