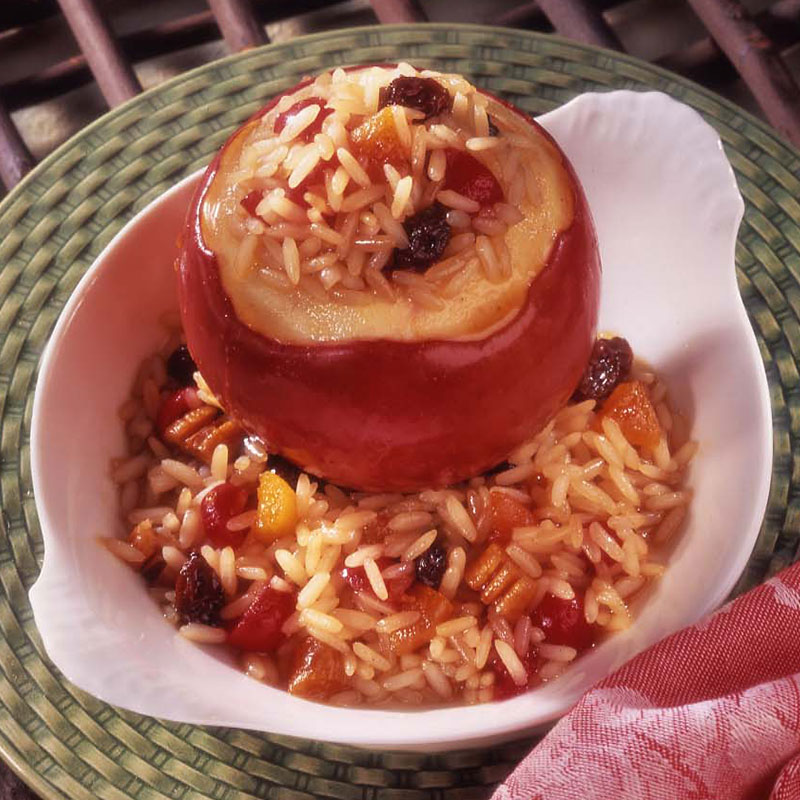 Rice Stuffed Baked Apples
Ingredients
1 cup uncooked rice*

1 cup water

¾ cup apple juice

6 large baking apples

¾ cup raisins

½ cup fresh or frozen cranberries, chopped

½ cup dried apricots, chopped

½ cup pecans, chopped

¼ cup maple syrup

3 tablespoons brown sugar

1 tablespoon lemon juice

1 ½ teaspoons ground allspice

1 teaspoon vanilla extract
Directions
Combine rice, water and apple juice in 2-to-3-quart saucepan. Bring to a boil over high heat; stir once or twice. Reduce heat to low; cover and simmer 15 minutes or until rice is tender and liquid is absorbed. Set aside.

Core apples leaving 1-1/2-inch walls and bottoms intact; set aside. Peel top halves, if desired.

Combine rice, raisins, cranberries, apricots, pecans, syrup, brown sugar, lemon juice, allspice and vanilla in large bowl. Stuff apples with rice mixture and place in shallow glass baking dish. Place remaining rice mixture around apples.

Cover with foil; bake at 350 degrees 50 to 60 minutes or until apples are fork-tender.
Recipe Notes
*Recipe based on regular-milled long grain white rice. For medium grain rice, use 3/4 cup water and cook 15 minutes. For parboiled rice, use 1-1/4 cups water and cook 20 to 25 minutes. For brown rice, use 1-1/4 cups water and cook 45 to 50 minutes.
Nutrition Facts
Calories

407

Total Fat

7g

Sodium

11mg

Carbohydrates

85g

Dietary Fiber

7g

Protein

4g