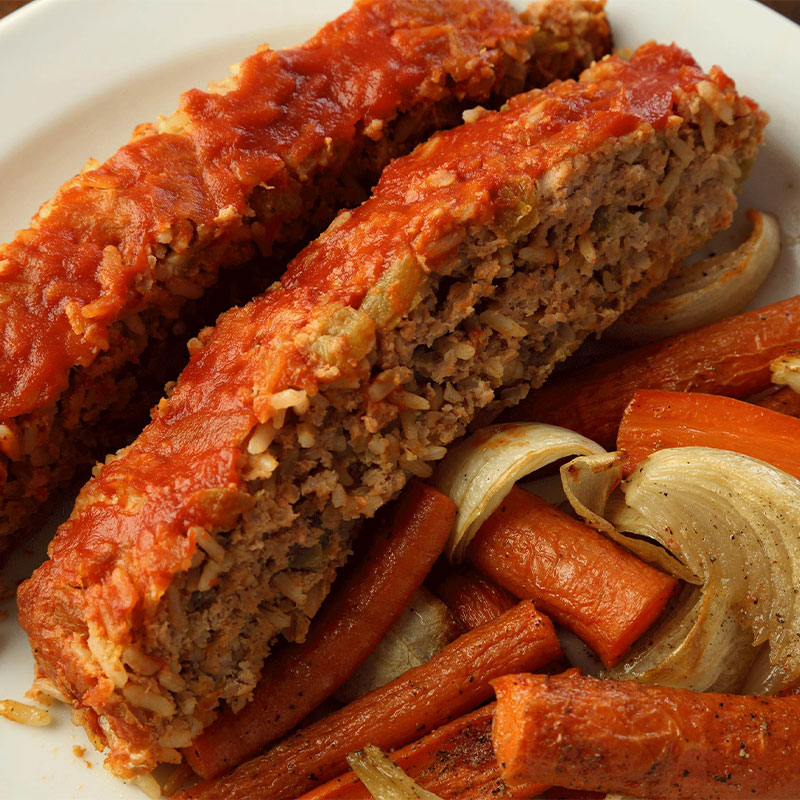 Sheet Pan Meatloaf & Roasted Carrots
This household staple will bring you back to your earlier days and won't break the bank with all ingredients totaling at $7.40 ($1.85 per serving).
Ingredients
1 pound carrots, cut in half lengthwise then cut into 3-inch pieces

2 (about 8 oz) medium onion, peeled and cut into 1/2-inch wedges

1½ tablespoons canola oil

1 pound 93% lean ground turkey

¾ cup instant brown rice

1 large egg

1 (4 oz) can chopped green chilies

1 (8 oz) can tomato sauce, divided

¾ teaspoon salt, divided use

½ teaspoon pepper, divided use

3 tablespoons ketchup
Directions
Preheat oven to 350 degrees F.

Place the carrots and onions on a foil-lined baking sheet. Drizzle the oil over vegetables and toss until well coated. Set aside.

Combine the turkey, rice, egg, green chilies, and all, but ¼ cup of the tomato sauce, ½ teaspoon. salt and 1/4 tsp. pepper.

Push the vegetables to one end of the baking sheet. Place the turkey mixture on the other end. Shape the turkey mixture into an oval about 5" by 9 inches. (Note: the mixture will be very "loose or wet" at this point.) Arrange the vegetables in a single layer.

Bake 40 minutes or until internal temperature of meatloaf reaches 165 degrees F. (do not cook any longer or it will become dry…it will continue to cook as it rests.) Remove from oven.

Combine the remaining tomato sauce and ketchup and spoon over the top and sides of the meatloaf. Bake 5 minutes. Remove from oven, sprinkle vegetables with 1/4 tsp. salt and 1/4 tsp. pepper; let stand 10 minutes before slicing meatloaf to firm up slightly.

Makes: 1 meatloaf and 4 cups cooked vegetables total.
Recipe Notes

Be sure to purchase 93% lean ground turkey for this recipe. The other varieties will not have the desired body or texture needed.