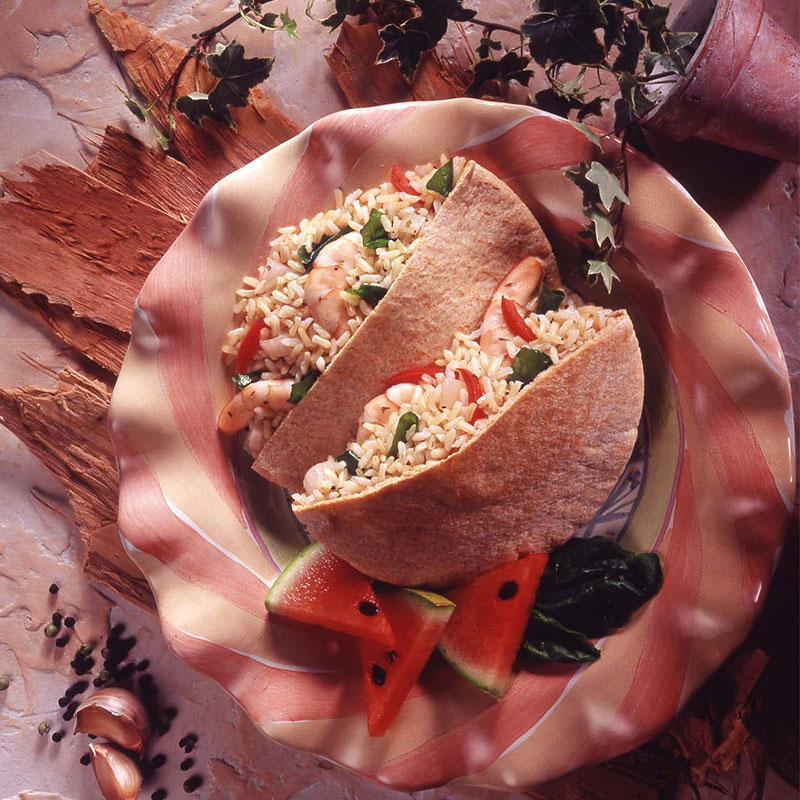 Ingredients
¾ cup olive oil

½ cup red wine vinegar

2 medium onions, chopped, divided

2 cloves garlic, minced, divided

2 teaspoons Italian seasoning, divided

1 pound medium shrimp, peeled, deveined

2 medium red or green bell peppers, julienned

4 cups fresh spinach leaves, stems removed and torn

3 cups cooked brown rice

1 teaspoon salt

½ teaspoon ground black pepper

3 pieces pita bread, each cut in half
Directions
Combine oil, vinegar, ½ cup onion, 1 clove garlic and 1 teaspoon Italian seasoning in large bowl. Add shrimp; stir until well coated. Cover and refrigerate 4 hours or overnight. Thoroughly drain shrimp; discard marinade.

Heat large skillet over medium-high heat until hot. Add shrimp, remaining onion, bell peppers, spinach and remaining 1 clove garlic; sauté 3 to 5 minutes or until shrimp is cooked..

Add rice, remaining 1 teaspoon Italian seasoning, salt and pepper. Cook and stir 2 to 3 minutes or until flavors are well blended.

To serve, fill each pita with ½ to ¾ cup rice.

Nutrition Facts
Calories

296

Total Fat

6g

Cholesterol

61mg

Sodium

677mg

Carbohydrates

47g

Dietary Fiber

6g

Protein

14g